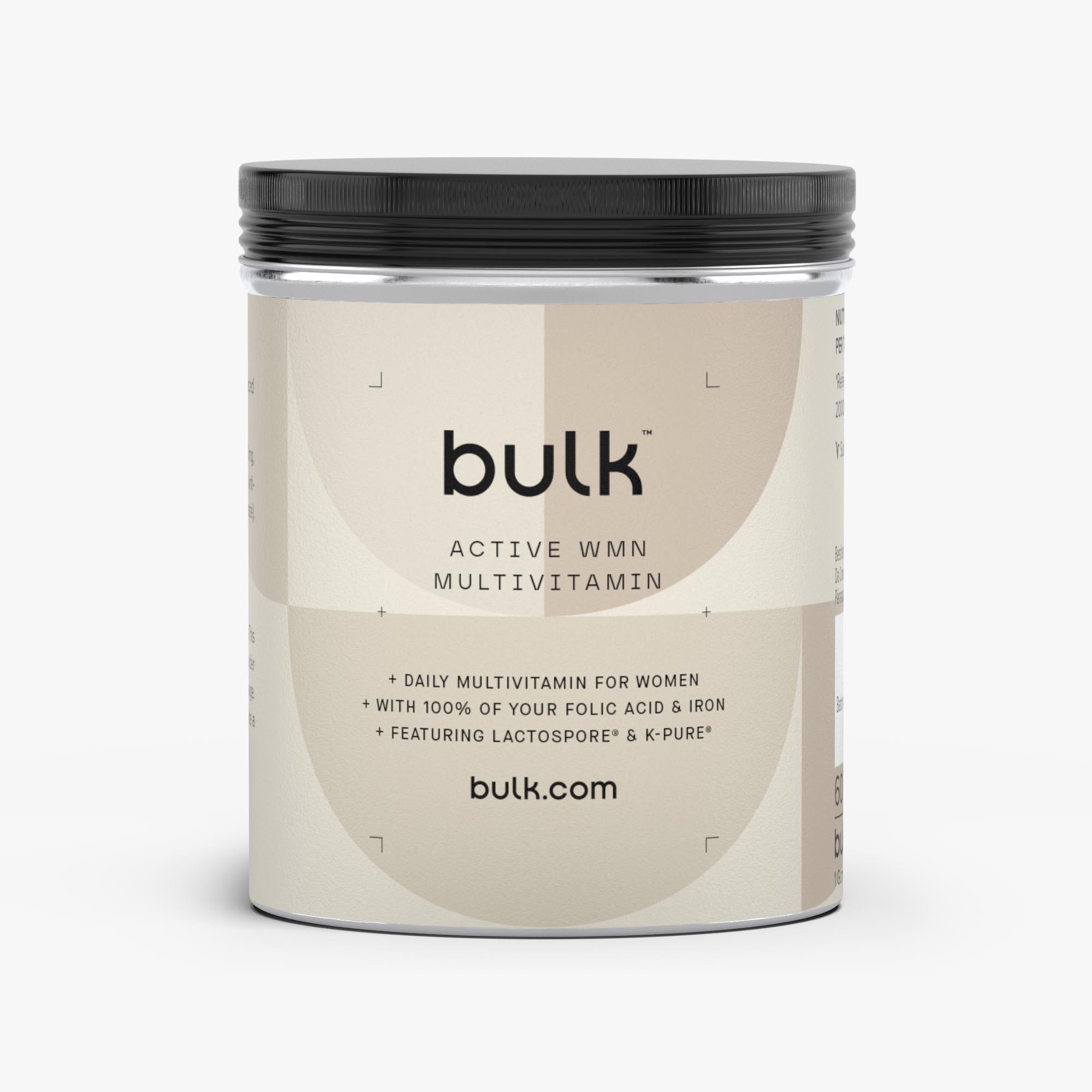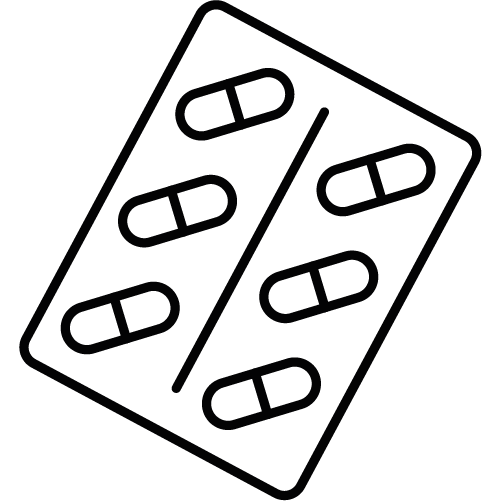 Multivitamin for active women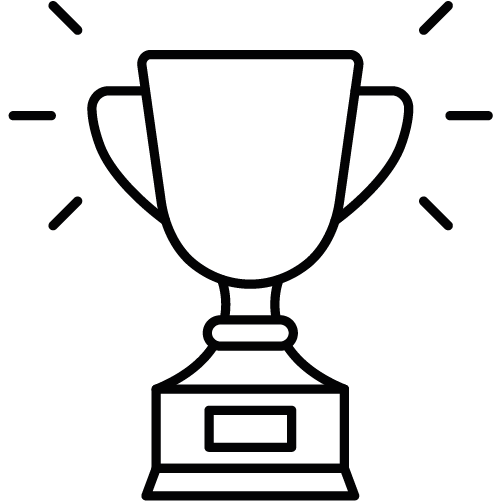 Premium sources of all ingredients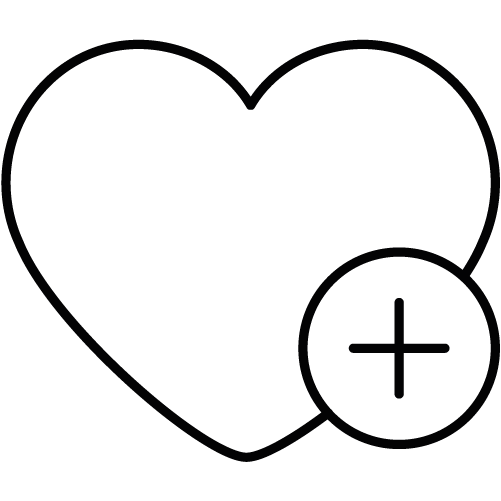 Highly dosed to support your healthy lifestyle
Acitve WMN Multivitamin
Our premium multivitamin formula, created specifically for active women by our formula experts. Provides 22 unique vitamins, minerals and nutrients, at optimal doses, in a simple, everyday supplement.
We developed our Active WMN™ supplement to be the ideal multivitamin for active women. Using a considered balance of vitamins, minerals, nutrients and active ingredients, we created the ideal multivitamin supplement to help you protect you protect your immune system, stay healthy, and get the most out of your day, whether you work hard, play hard, train hard, or all three at once.
Active WMN™ is designed to give your body the best nutritional support to supplement your healthy diet and active lifestyle. Our simple daily multivitamin formula provides everything you need to know you're getting the vitamins and micronutrients you need, day in, day out.
Calcium
An important mineral supporting healthy bones and teeth, crucially important for active women.
Vitamin C
One of your body's most important vitamins, vitamin C is an antioxidant that supports your immune system and a range of bodily processes.
Iron
Iron helps your body create and maintain healthy red blood cells to transport oxygen around the body. It's especially important for active women.
Folic Acid
Supports your body in the production of new cells.
LactoSpore®
A premium preparation of Bacillus coagulans, a probiotic bacteria found in your gut. LactoSpore®'s lactic acid bacillus preparation ensures optimum reactivation in your digestive system.
B-Vitamins: B3, B5, B2, B6, B1, B12
B-Vitamins perform a number of vital roles in the body, especially helping to reduce tiredness and fatigue. Each daily dose of Active WMN™ provides 100% of your recommended intake of B-Vitamins.
Zinc
Found in cells throughout your body, zinc plays an important role in maintaining a healthy immune system.
Natural Vitamin E
We use a superior, natural form of vitamin E in ACTIVE WMN™ for superior absorption, unlike many vitamin supplements that use synthetic versions.
Phosphorous
After calcium, phosphorous is the most abundant mineral in the human body, and plays an important role in building and maintaining strong bones.
Magnesium
An important mineral which plays a number of roles, including muscle and nerve function regulation, bone density support, and blood sugar level regulation.
Copper
Aside from supporting a healthy immune system, copper helps your body to make red blood cells, as well as helping to form collagen.
Vitamin A
Vitamin A is a key vitamin that plays numerous roles in the body, most importantly supporting your immune system and contributing to eye health.
Selenium
Selenium helps the body to stay healthy by assisting in protection from the damage caused by free radicals.
Iodine
Iodine is a mineral that helps regulate normal metabolic function, and is needed for the production of thyroid hormones.
Biotin
Also known as vitamin H or vitamin B7, Biotin contributes to the maintenance of healthy hair, skin and nails.
Vitamin K1
Vitamin K helps to transport calcium, supports normal blood clotting, and is important for good bone health.
Vitamin D3
Vitamin D3 is crucial for your body, helping to support proper absorption of calcium, as well as contributing to overall bone health and density.
Disclaimer: Implied results may vary. Individuals will respond differently. Implied results assume an appropriate nutrition and training plan.
Take 3 ACTIVE WMN™ capsules daily, spaced evenly throughout the day, preferably with food.
Nutrition
Calcium: 200mg
Vitamin C: 200mg
Iron: 14mg
Folic Acid: 200mcg
LactoSpore®: 600,000,000 spores
B-Vitamins:
B3: 16mg
B5: 6mg
B2: 1.4mg
B6: 1.4mg
B1: 1.1mg
B12: 2.5mcg
Zinc: 10mg
Natural Vitamin E: 5mg
Phosphorous: 110mg
Magnesium: 100mg
Copper: 300mcg
Vitamin A: 200mcg
Selenium: 55mcg
Iodine: 50mcg
Biotin: 50mcg
Vitamin K1: 50mcg
Vitamin D3: 5mcg
Benefits
The Full ProfileOffers a complete complex of 22 vitamins, minerals and nutrients to support your active lifestyle.
Combined ActionBy blending unique ingredients with different purposes, you get the best potential in a single supplement.
Expert ApprovedFormulated by top sports nutritionists.
Incredible ValueProvides a complete vitamin and mineral profile at a great price.
Daily DoseTake regularly to ensure you get your recommended intake of vital nutrition.
Active WMN™ Ingredients
Calcium Citrate, Phosphorus Chelate, Capsule Shell (Hypromellose, E171, E129), Magnesium Citrate, Maltodextrin, Vitamin C (Ascorbic Acid), Ferrous Citrate, Zinc Bisglycinate K-Pure®, LactoSpore® (Maltodextrin, Bacillus Coagulans), Kelp Extract (Maltodextrin), Vitamin B3 (Nicotinamide), Magnesium Stearate, Silicon Dioxide, Seleno Methionine (Dicalcium Phosphate), Calcium D-Pantothenate, Vitamin E Succinate, Copper Bisglycinate K-Pure® (Maltodextrin, Silicon Dioxide), Vitamin A (Retinol Acetate), Vitamin D3 (Cholecalciferol), Vitamin B6 (Pyridoxine HCl), Vitamin B1 (Thiamine HCl), Vitamin B2 (Riboflavin), Vitamin K1 (Maltodextrin), Folic Acid, D-Biotin, Vitamin B12 (Cyanocobalamin).
Active WMN™ Nutrition Information
| | |
| --- | --- |
| Ingredient | per Daily Serving |
| Calcium | 200mg (*25% RI) |
| Vitamin C | 200mg (*250% RI) |
| Phosphorus | 110mg (*16% RI) |
| Magnesium | 100mg (*27% RI) |
| LactoSpore® | 600 million spores |
| Vitamin B3 | 16mg (*100% RI) |
| Iron | 14mg (*100% RI) |
| Zinc | 10mg (*100% RI) |
| Vitamin B5 | 6mg (*100% RI) |
| Natural Vitamin E | 5mg (*42% RI) |
| Vitamin B2 | 1.4mg (*100% RI) |
| Vitamin B6 | 1.4mg (*100% RI) |
| Vitamin B1 | 1.1mg (*100% RI) |
| Copper | 300mcg (*30% RI) |
| Folic Acid | 200mcg (*100% RI) |
| Vitamin A | 200mcg (*25% RI) |
| Selenium | 55mcg (*100% RI) |
| Iodine | 50mcg (*33% RI) |
| Biotin | 50mcg (*100% RI) |
| Vitamin K1 | 50mcg (*67% RI) |
| Vitamin D3 | 5mcg (*100% RI) |
| Vitamin B12 | 2.5mcg (*100% RI) |
*Reference intake of an average adult (8400 kJ/2000 kcal)
Allergens
None.
Read more...
As low as
Save £3.50
Regular Price
As low as
Save £3.50
Regular Price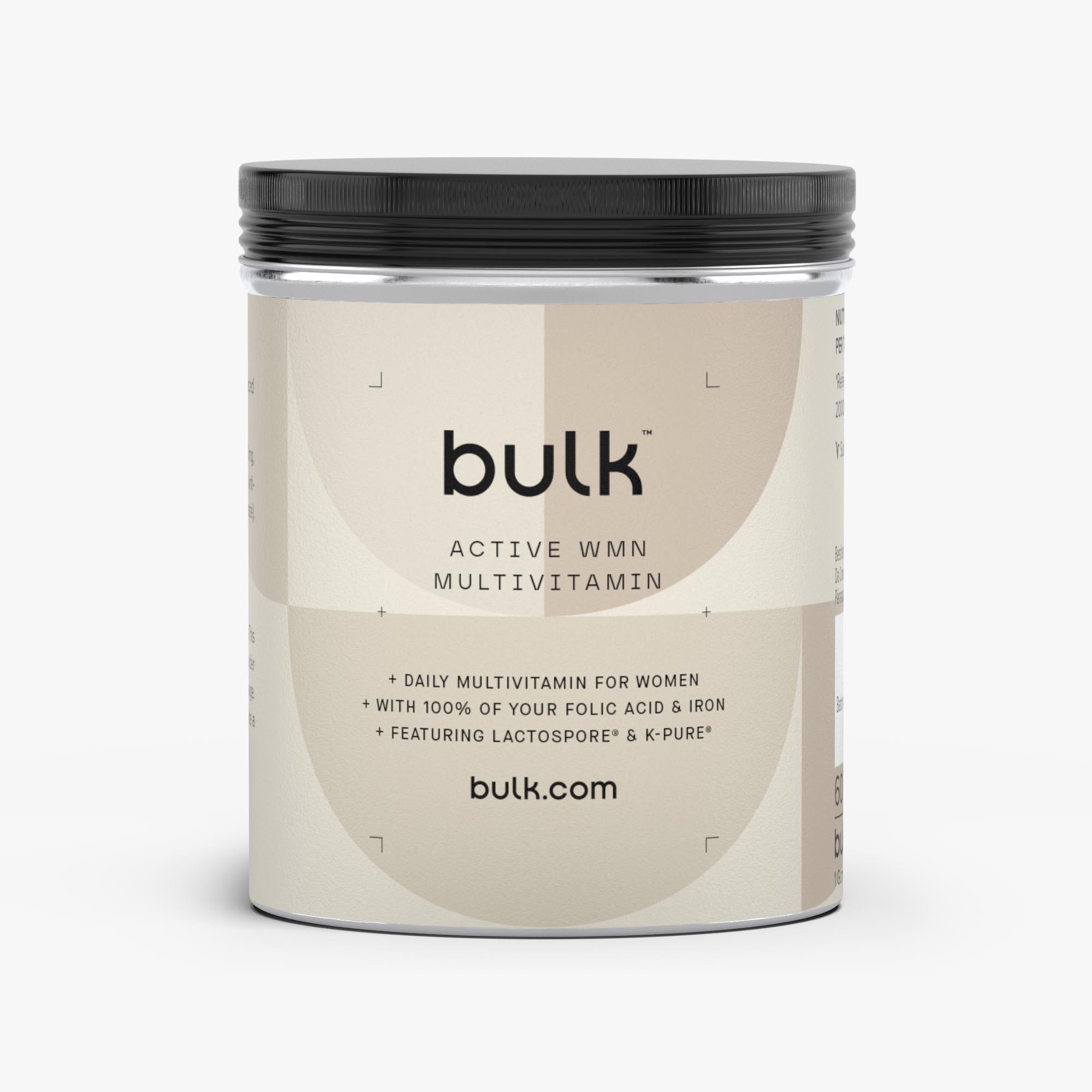 Customer Reviews
Customer Reviews Subtitle
Share your journey on Instagram @bulk