Bulk™ Friday is here. We've made shopping even easier with an edit of our top picks in this year's sale. What's more, spend just £30 during the sale period to get a free, limited edition shaker as well as your choice of delicious protein snack. We've been working on two limited edition, protein-packed treats for you to choose from this year.
Double Chocolate Millionaires Slice
If you thought our Protein Millionaires Slice answered all of your protein snack dreams, then get ready for it to be taken to the next level. Our super chocolatey, double chocolate millionaires slice is guaranteed to satisfy your sweet cravings – consisting of a cocoa oat base with a rich caramel layer, topped off with a delicious thick layer of dark chocolate. Providing 15g of protein per slice, this snack not only tastes amazing, but will help you to achieve your fitness goals!
Gourmet Vegan Bar – Dark Chocolate & Salted Caramel
Our vegan customers have missed out on our Macro Munch bars for some time now, so it's only fair for us to offer a vegan alternative. Designed to change the vegan protein bar snacking game, we're very excited to introduce you to our new Gourmet Vegan Bar. A delicious combination of sweet and salty, our rich double chocolate and salted caramel multilayer bar ticks all the boxes in terms of flavour and macros. Low in sugar (less than 1g of sugar per bar) and high in protein with a generous offering of 16g of protein per bar, it's an enjoyable and convenient way for vegans to increase their protein intake.
Our Sale Favourites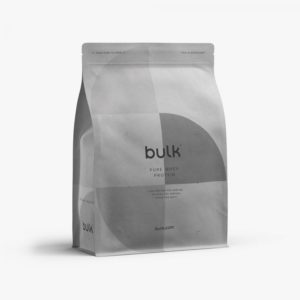 Pure Whey Protein™ RRP £16.99 Sale from £7.49
The foundation of any training programme, our easy-mixing Pure Whey Protein™ powder is loaded with 22g of Protein and 5g of BCAAs per serving, available in over 20 delicious flavours. High quality, premium Whey Protein sourced from the milk of grass-fed, European cows. It's ideal for anyone starting out on their fitness journey, or any regular trainer looking to pack in the protein. It can even be added to smoothies or used for home baking.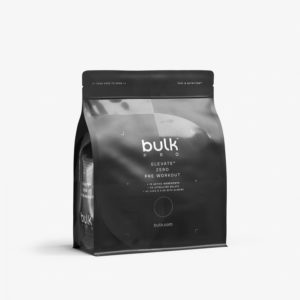 Elevate Zero Pre-Workout RRP £39.99 Sale from £23.99
The ultimate low-sugar pre-workout supplement for professional athletes and elite trainers. Each 22g serving provides a combined 19g of 11 active ingredients, with only 0.2g of sugar and less than 2g of carbs. Lab tested for banned substances and athlete approved. The product of months of research and refinement, it provides all the stimulation you need to prepare for an intense workout session, with minimal sugar intake. Best of all, Elevate Zero Pre-Workout is available in a range of delicious flavours.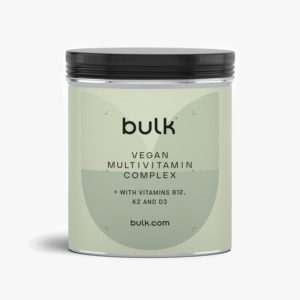 Vegan Multi RRP £13.99 Sale from £6.99
We've tailored this multivitamin to the needs of a vegan diet to provide more of what you need and less of what you don't. Vegan Multivitamin Complex features strong doses of Vitamin B12, Iron, Calcium, Vitamin K2, Vitamin D3 and Zinc – all provided in premium formats. On the flip side, we've dialled down the industry-standard doses of Iodine, Vitamin A and Copper, as these are already likely available in abundance with a plant-based diet.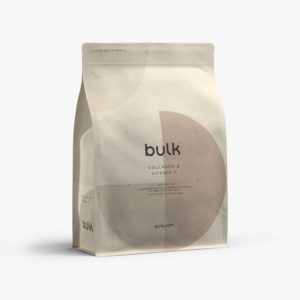 Collagen & Vitamin C RRP £19.99 Sale from £9.99
Collagen is the most abundant protein in the human body, and can be found in bones, skin, gums, blood vessels, teeth and cartilage. Vitamin C contributes to normal collagen formation, making it the perfect counterpart to supplemental collagen. So we combined the two into a single Collagen & Vitamin C supplement, in a neutral flavour that blends easily with shakes, smoothies, or even hot drinks.We use both Type 1 and Type 3 collagen, sourced from bovine hides.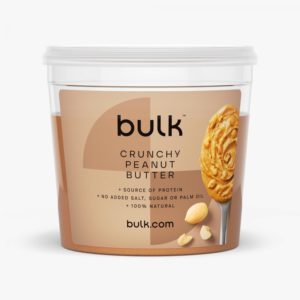 Peanut Butter RRP £7.99 Sale from £3.49
Our Peanut Butter 1kg is exactly what it says it is. A rich, natural butter produced from 100% roasted whole peanuts and nothing else. No added salt, sugar, palm oil or preservatives. Loaded with protein and monounsaturated fats, it's an ideal option for any mass gain programme, and it's available in both crunchy and smooth varieties.
Celebrate Bulk™ Friday with us and enjoy the big offers while they last. Don't forget to get your hands on our limited edition shaker and enjoy an exclusive birthday treat on us. Let us know what you think of our limited edition selection by tagging #TeamBulk and @bulk in your social media posts. We want to hear from you!