Climate change refers to the long-term changes in the climate that occur over decades, centuries or longer. Earth's climate is changing faster now than it ever has during human history and it's an issue that involves all of us. The impact of climate change is projected to continue and in some cases, intensify, affecting human health, infrastructure, forests, agriculture, freshwater supplies, coastlines, and marine systems We are seeing the effects on our planet, so now is the time to act and help tackle this global issue.
THE GREAT BIG GREEN WEEK
The Great Big Green Week is a nationwide celebration of action on climate change, taking place across the UK from the 18 – 26 September 2021. This year it will be the largest event for climate and nature ever seen in the UK. Thousands of events will celebrate how communities are taking action to tackle climate change and protect green spaces, and encourage others to get involved too.
Thousands of events will take place during the week across the country. They range from concerts, to art installations, to community litter picking, to planting trees. 
The UK has a big opportunity to raise awareness and support the fight against climate change this year as the host of the United Nations Climate Summit (COP26) in Glasgow this November. So the Great Big Green Week will help set the stage for this event. 
What can you do?
Climate change is arguably the biggest challenge facing our planet today. Environmental scientists now say we have less than 10 years to prevent catastrophic harm to our planet, with one of the worst contributors being environmental pollution caused by plastic. There's an estimated 150 million tonnes of plastic causing havoc in the world's oceans and millions of tonnes more in landfills across the world. So what can you do to help? 
At Bulk we have focused on how to reduce (with the aim to eliminate) single-use plastic and urge you to try the same. Here are our top tips to help make small changes and together we can make a big impact.
1) Carry your own reusable water bottle
One easy way to reduce your plastic use is by saying no to the single-use plastic bottles and instead invest in a reusable water bottle. Why not try our Insulated Steel Water Bottle, which is so versatile to enjoy both hot or cold drinks, or go big with our Half Gallon Water Bottle.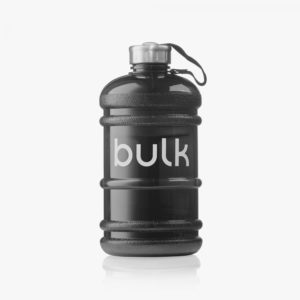 2) Bring your own shopping bag
Tote bags are a great way to help do your bit for the environment by reducing the amount of plastic bags you use when you do your shopping. They are easy to fold into your bag and also a great way to save those pennies each time you shop! 
3) Buy from sustainable brands
Do you consider the sustainability of brands before you purchase their products? You'll feel great if you do. Not only will you be choosing a more sustainable product, you're helping businesses who are mindful of the environment grow.
4) Get the right activewear
Traditionally activewear tends to be made from non-biodegradable fibres, like polyester, which aren't great for the environment. Instead, invest in brands that make clothing from sustainable materials that are kinder to the planet. 
5) Say no to disposable cutlery and straws
Are you a regular takeaway eater? Do you take your lunch to work or buy lunch out? You should make sure you invest in some reusable cutlery, like bamboo cutlery for example. Many reusable cutlery sets now also come with their own case which makes it much easier and hygienic to carry in your bag.
6) Reduce meat consumption
To mitigate the negative effects of mass-scale agriculture on the planet, aim to eat less meat. You can start slow by doing 'meatless Mondays', serving up some delicious, sustainable and affordable recipes. We also have a huge range of vegan alternatives that support nutrition in a plant-based way.
7) Bring your own coffee cup
If you're a coffee enthusiast who needs a daily caffeine fix, consider bringing your own reusable coffee cup to your local cafe. Not only will this help the environment, you may also save yourself some pennies since many businesses support this alternative by offering a discount when you do.
What have we done?
At the beginning of the year, we launched Our Planet: a project to transition all of our product and shipping packaging to 100% sustainable materials. We've made significant progress already, transitioning over 90% of our packaging materials to sustainable alternatives, which has eliminated over 12 million pieces of single-use plastic from our packaging. 
Our 2021 target is to be over 95% sustainable in all of our single-use packaging. Although we've already made a lot of progress, there's still a lot left to do and we're committed to meeting our goals. We can't wait to let you know how we're getting on over the next few months and to see more about our sustainability efforts, visit the Our Planet page on our website.
Share your tips and tricks with us by using the hashtag #TeamBulk or #ThisIsNutrition and follow us on social @bulk for more.
Related articles
Looking to learn more? We believe that every person, with support, has the right to transform their lives through fitness. That's why we've put together hundreds of articles with expert advice, all to help you on your fitness journey.
5 Ways to work on Mental Health                     5 Tips to get you back in the game
Tips to beat Lockdown Fatigue                         Why change doesn't happen overnight
How does Bulk™ prioritise Sustainability?    Nutrition and your Wellbeing
Soil Association approved products                  What do SMART goals mean?
Sustainability at Bulk™                                       Vitamins for energy and tiredness