High Protein Yorkshire Puddings Recipe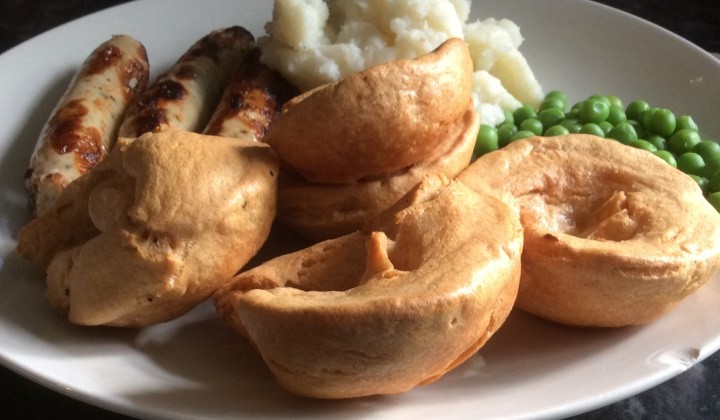 A traditional Sunday Roast is the meal of champions. I'd probably have it every day if I could be bothered to do the washing up (which I can't). However with Protein Yorkshire Puddings now on the menu, I'm seriously considering it. So many gains on a plate. Ee by gum!
Crystal has worked her magic to come up with these high protein Yorkshire Puddings made using Unflavoured Beef Protein Isolate 97 (HydroBEEF). If it's not on your shopping list, scribble it on there right at the top now (or type it into your iPad if you don't know what a notepad is).
Instructions:
1.) Preheat the oven to 210 C (fan) / 230 C regular oven. Put an even amount of the coconut oil in each of 5 Yorkshire pudding tin sections – it will melt in the oven
2.) Mix all ingredients together – an electric whisk works well to get lots of air bubbles. Adjust the batter consistency with water as necessary
3.) Take the pre-heated tin out of the oven and add the mix across the 5 sections
4.) Place in oven for 20-25 minutes (keep an eye on it and try not to open the oven halfway through!)
5.) Remove and serve with roast dinner or anything else!
Get Cooking!
Try the recipe yourself! Post a picture of your creation to Facebook, Twitter or Instagram @bulkpowders_uk #bprecipes
MACROS (makes 5)
Calories – 226
Protein – 17g
Carbs – 18g
Fats – 10g
Author: Crystal Hall
Ingredients
25g Plain Flour
12g Unflavoured Beef Protein Isolate 97
50ml Unsweetened Almond Milk
Salt and Pepper
Splash of Water (optional, for batter consistency)
10g Coconut Oil for cooking