Last December, I made the decision to begin training for one of the toughest physical challenges there is. An Ironman. Here I talk about my eight-month training programme, detailed intra-race nutrition strategy, and how I prepared myself mentally to complete the race.
What is an Ironman triathlon?
An Ironman is a long-distance triathlon race organised by the Ironman franchise. The term 'Ironman' has now become synonymous with races of this distance. A full Ironman involves the following – a 3.8km swim, a 180km bike and to finish it off, a 42.2km (marathon distance) run. 
During an Ironman, around 10% is spent swimming, 50% on the bike and 38% running. The remaining 2% is spent in transition from swim to bike (T1) and bike to run (T2).
| | |
| --- | --- |
| Swim | 2.4 miles |
| Bike | 112 miles |
| Run | 26.2 miles |
| TOTAL | 140.6 miles |
How long does an Ironman triathlon take?
Most Ironman events have a time limit of 16 or 17 hours to complete the race, course dependent, with the race typically starting at 7:00am.
I did mine in a pretty average time (12 hours and 40 minutes), but I'd say a lot of it is dependent on the course, in particular the bike leg. For example, my event had 1.2km of climbing over the 180km course, whereas the Ironman Bolton has almost double that. It also depends on that person's experience and fitness level.
The world record, by the way, is 6 hours 44 minutes and 25 seconds. This was recorded by Kristian Blummenfelt on the 5th June 2022. Truly mind-blowing.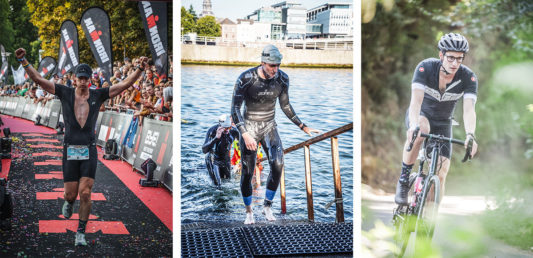 How to train for an Ironman
How to train for Ironman certainly depends on the amount of experience a person has prior to the event. I'd run the Amsterdam marathon around a year before and had a relatively good running foundation even prior to that. However, I hadn't swum for probably about 15 years. Remember those 25m Frosties badges in primary school? Well, 25m would have to turn into 3800m, so it was quite a shift.
I also didn't own a road bike before I entered the event (I'd actually never ridden a road bike before either, nor had I owned clipless pedals), so it took a while to get comfortable with these. In general, however, people tend to take anywhere between 3 months and 2 years preparing for an event like an Ironman. Many people often do an Olympic triathlon or 70.3 (Half-Ironman) as part of their preparation
For my event, I did lots of research around training programmes and ended up downloading a 32-week intermediate plan from TrainingPeaks. This meant that I was head down in training from Christmas through until August. But more than anything, it also took away the worry of wondering whether I was doing too much or too little training.
Generally speaking, the plan involved 3-4 runs, 3-4 bikes, and 2 swim sessions a week, ranging between 10-17 hours per week. The programme built the volume up slowly which helped to avoid injury, and got me accustomed to it. Most of the training is also very low intensity, with 80% in zone 2. The other 20% was made up of more intense efforts (e.g. intervals).
A typical training week might look something like this:
| | Monday | Tuesday | Wednesday | Thursday | Friday | Saturday | Sunday |
| --- | --- | --- | --- | --- | --- | --- | --- |
| Morning | Easy run (e.g. 1 hr Z2) | Bike intervals (e.g. 10 mins warm up, 5 x 8 mins Z4 efforts) | Running intervals (e.g. 15 mins warm up, 6 x 5 mins Z5 efforts with 90 secs rest) | Easy ride (e.g. 1 hr Z2 bike) | Rest | Brick workout (e.g. 4hrs Z2 ride with 30 minS run off bike) | Long run (e.g. 3 hrs Z2) |
| Evening | Strength and conditioning | Easy long swim (e.g. 3.5 km easy, split out into 500 m efforts) | Strength and conditioning | Swim intervals (e.g. 100 m pyramid efforts in Z2, Z3, Z4, Z5, Z4. Around 2.5 km) | Rest | / | / |
For me, the toughest part was balancing the high volume of training alongside full-time work, particularly during peak weeks. It also meant I had to say no to a lot of social activities which was also pretty difficult at times (I love a beer). 
How do you mentally prepare for an Ironman?
Do the hard work in training
I think sticking to, and trusting, a specific training plan is the best way to make sure you're fully prepared. Ultimately, you get so used to the long bikes and long runs that they become second nature.
As long as you can say you've done the work and stuck to the plan (as best you can), this will give you the confidence to perform on race day. Your training always pays dividends. 
But no matter how hard you train, you're going to have to dig deep and resort to some pretty dark places when it comes to the actual event. Becoming accustomed to this feeling and practising this in training is the best way to see what you're really made of come race day. 
Break it down into chunks
On the day, I decided to break my time up hour by hour. I think you'd lose the plot if you looked at the whole thing as a 12+ hour effort. 
For example, I knew the first hour or so would be consumed by the swim, and this absolutely flew by for me. Before I knew it, I was out of the water and getting my biking gear on. One down, three to go. 
In terms of the bike, I found I was so focused on my nutrition plan (which was also hour by hour) that the first half also went by quickly. It was only around four hours into the biking that the monotony started getting real. But again, you've practised it in training. It was time to dig deep. 
For the run, initially I was just happy to get my bum off the bike and stretch my legs. And once that novelty wore off, I had an hour-by-hour nutrition plan to focus the mind. There was also the factor that, rather than a city marathon, the course was four laps of a 10km course. This made it a lot easier to break it down from a psychological perspective. One lap. Two laps. Three laps. Four laps. And it was time for a beer.
Plan ahead
My only other tip would be to make sure that you sort all the logistics out in advance to make sure that you don't have any surprises come race week. Particularly if they are abroad. 
For example, how are you transporting your bike overseas? What time do you need to register? How close is your accommodation to the IM village? What are your post-race plans? And so on. 
Making sure you're comfortable with all of these elements allows you to better channel your energy into race preparation, rather than logistics. I was quite lucky that I did the event with two mates, so essentially we had three pairs of eyes looking over all the details. 
Be as prepared as you can possibly be to avoid unnecessary stress on race day.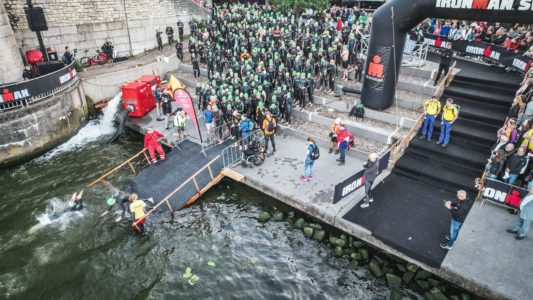 How do you manage your nutrition for an Ironman?
I was pretty lucky in that I work for Bulk™, so I had some of the best products on the market at my fingertips. Not only that, I also had access to some of the top sport nutrition experts in the industry who could help me to devise a specific, science-based plan. Big shout out to Simon Jurkiw (Commercial Director), Rowan Cooke (Head of Innovation), and Jack Weekes (Innovation Manager) for that.
Do you eat during an Ironman?
Intra-race nutrition is a vital part of completing an Ironman.
Generally speaking, my carbohydrate sources came from a range of whole foods (e.g. Peanut Butter sandwiches), cereal bars (e.g. malt loaf or energy bars), Isotonic drinks, energy gummies and energy gels. I was also paying close attention to my electrolyte intake – I'm quite a heavy sweater, so it was important that I was consuming enough sodium, magnesium and zinc to help avoid cramping on the run. 
Most of this carb intake came on the bike, as this is where there is less stress on the gut (because you're seated). I tried to follow the path of wholefoods first, then bars, then gummies, and finally gels and liquids. But again, this depends on you as an individual and what you did in your preparation.
Depending on your preferences, the body can metabolise 60-100g carbs per hour, so the challenge is understanding what your body can and can't handle.This is important to practice in training. Necking down a peanut butter sandwich while riding on a bike is a skill in itself. 
It's worth mentioning that as good as my plan was, you must be adaptable on race day. For example, I found that my body was rejecting solids after around 2 hours, so I resorted to liquids and gels much earlier than planned.
I also ended up consuming more from the on-course aid stations, as well as using the IM-sponsored carb drinks, which is pretty risky. Luckily I was fine, but trying unfamiliar products can give you stomach issues.
Here is the full intra-Ironman nutrition guide I used.
Nutritional products used during Ironman and training
Hydration Drink

– 2 scoops is approx 70g carbs!

Pure Whey Protein™

– after every workout to help recovery, with 2 scoops of 30g each after bigger sessions.

Energy gels

Protein snacks

– protein balls, vegan brownies and chocolate rocky road were favourites.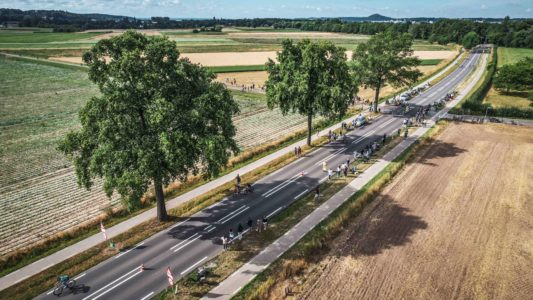 How do you recover from an Ironman?
I burned approximately 12,000 calories on the day. There's no chance in hell that I'm going to be able to replenish those calories in one evening, so I just made sure I filled those voids in the day post-race.
In short, I ate loads. This probably isn't the best advice, but I wasn't really paying attention to the quality of food. Pizzas, burgers, beer. Anything and everything. It had been about 8 months of intense training and nutrition, so I figured I earned it. 
All in all, I gave myself a solid 2-3 weeks to fully recover and kept any exercise very light. This included mostly walking, but if I did run or cycle, it was super low intensity. Essentially, you just need to listen to the body and not rush back into anything too intense. Give yourself as much time off as you need. And enjoy it. You've achieved something pretty cool. 
But once you're recovered, it's important to give yourself a new goal. With months and months of working towards one day, sometimes you can feel a little empty afterward. So replacing it with a new target or goal is the best way to protect yourself from that. On to my next challenge.