The Muscle Baker has worked her magic again, this time it's a sweet vegan flapjack treat. This is one to share – if you don't eat them all first!
INSTRUCTIONS:
1) Preheat oven to 170 Degrees C.
2) Pour water and agave together in a saucepan (or bowl if doing in microwave). Whisk in VitaFiber™ and heat up (or in two 30 second intervals in microwave). Keep whisking on medium heat until VitaFiber™ has dissolved.
3) Fold in peanut butter and coconut oil, then sugar or sweetener, followed lastly by oats.
4) Line a deep baking tray and pour mixture in. Bake for approximately 15-20 minutes until oats start to golden but bake is soft to touch. You may even want to leave less time and have a softer bake.
Perfect for anyone looking to get some easy (but tasty) carbs in. You can also modify to suit by using different nut butters or adding further ingredients.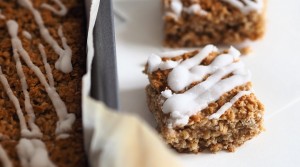 GET BAKING!
Try the recipe yourself! Post a picture of your creation to Facebook, Twitter or Instagram @bulkpowders #bulkbakes