Get to know the new bulk ™
2020 was an unpredictable year for everyone on the planet. For us it also meant embarking on a huge transformation process. You may have noticed that we look a little different now, but we haven't forgotten where we come from.
We decided to present our brand, our products and our community in a new way – simply to show how advancement is a path that anyone can go. We want to encourage and celebrate everyone's efforts and commitment to be at their best.
Our mission is to provide every athlete and person with proper nutrition to help them progress and achieve their goals. Today, more than ever, we believe that exercise, health, fitness and nutrition are for everyone – no matter who you are, what you do or how you do it. 
Here's what to expect from this new, better direction.
This is nutrition 
Our campaign with Anthony Joshua and Katarina Johnson-Thompson from the La Familia creative team leads you directly to the new bulk ™ world. Both ambitious athletes in training and health-conscious people with a more relaxed lifestyle are shown. We wanted to show that nutrition is suitable for everyone who wants to do something for their well-being.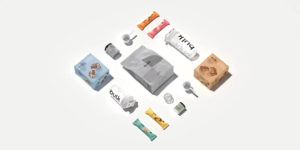 New look 
Our new identity was developed by type artist Paul Hutchison from Hype Type in LA in collaboration with the creative agency Robot Foods to bring clarity, symmetry and balance to the new word mark.

The design concept was inspired by round shapes to reflect the course, the path and the inclusiveness, while at the same time it is based on our original brand logo, but with a modern twist. 
The circular pattern is a recurring element on all packaging and is reminiscent of nutrition tables. The patterns and colors differ depending on the range and are of central importance for the effect of the packaging. They create a coherent experience across all categories.
With the help of Ellen Luff Type Foundry, Robot Foods created the "Bulk Sans" font series – something that connects the entire brand.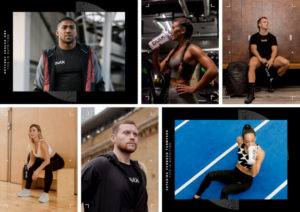 Get to know our brand ambassadors 
#TeamBulk is a fundamental, constant source of inspiration, empowerment and progress for us and our community. As we evolve along the way, they play a critical role in implementing our values ​​and are a point of reference for anyone who wants to achieve their goals.
With their huge variety of interests and experiences, we have selected brand ambassadors who represent all aspects of different paths to better health and fitness. From fans of a plant-based diet, athletes, and avid gym goers, there's a #TeamBulk brand ambassador to count on.
Anthony Joshua and Katarina Johnson-Thompson are the undisputed champions of #TeamBulk and inspire others with their inspiring life and sports career and their incredible achievements. You are the highest expression of everything we believe in and stand for. 
You'll recognize other familiar faces from the #TeamBulk like Sophie Aris and Joe Delaney , as well as new ones like Behzinga , a fitness and mental health vlogger, and Hayley Madigan , a former world bikini bodybuilding champion. As the most important faces of our #TeamBulk, you can see them in our campaign and on the website. We'll also be introducing new international brand ambassadors as we continue to grow our #TeamBulk community.
Take part in discussions on our social media channels by tagging #thisisnutrition and #TeamBulk. We can't wait to find out what you think about our new look. As usual, we continue to work hard to support our community and enable everyone to achieve their goals.