Some say she celebrates Christmas at Easter and Halloween in February (because she's a maverick, taking rules and breaking them). Some say she brushes her teeth with chocolate mint protein shakes to keep her breath minty fresh. All we know is she's called The Muscle Baker and she does whatever she wants.
Here is a peppermint creams recipe, suitable for vegans. Now it's your turn. Make miracles happen, you sexy thing.
INSTRUCTIONS:
First of all, you will need a suitable silicone mould, we used a mini Reese style cup one. Any that will hold a decent amount of filling will suffice.
1. Place your mould in the freezer for half an hour prior to starting recipe. This will make it easier for you to do the first layer of chocolate.
2. Melt ½ of the chocolate in microwave or in a bowl over boiling water, then with a small spoon start spreading a thin layer of chocolate over the bottom of each mould filling. Place back in freezer for a further half hour.
3. In the meantime, prepare your filling by simply mixing water, Sukrin icing, VitaFiber™ Powder and extract. You will get a gloopy kind of consistency, if you don't and it is too runny then go adding equal amounts of Sukrin and VitaFiber™ until you do.
4. Remove mould from freezer and add peppermint filling then freeze again until hardened slightly (or completely if you're patient enough for that).
5. Melt the remaining chocolate and spread over the top, making sure you cover the whole surface area. If you leave any spaces/holes the filling will come out once out of the mould.
6. Then back in the freezer for another half an hour and they will be ready to eat.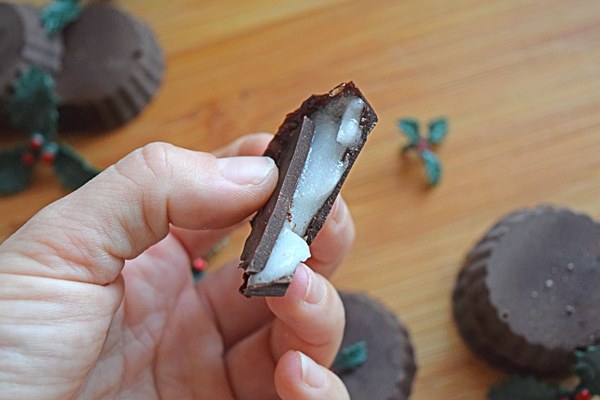 Keep them in freezer or in fridge, until… well… you've eaten them all!
Note: You could add some Chocolate Mint whey protein to your mix if you want your peppermint creams higher in protein, however this will make them unsuitable for Vegans.
Recipe yielded 9 peppermint creams.
GET CREATIVE!
Try the recipe yourself! Post a picture of your creation to Facebook, Twitter or Instagram @bulkpowdersie #bulkbakes