When you think of Christmas, you imagine snow (pah!), santa, a tree, decor, presents, family and… gingerbread latte. But when you have a latte, you need something to dip into it right? Swap a digestive or Hobnob for a tasty Gingerbread Man!
Each gingerbread bro has less than 100 cals. Seasonal snacking at its finest. Cheers The Muscle Bakery.
INSTRUCTIONS:
1.) Mix all dry ingredients into a bowl and set aside.
2.) In a mixer bowl, add Vitalite, egg and sweetener and beat on a low speed.
3.) Slowly add in melted coconut oil and molasses and increase to a medium speed
4.) Add dry mix slowly until a doughy consistency forms, then wrap in cling film and refrigerate for up to 1 hour.
5.) Spread and flatten mix onto a sheet of greaseproof paper using your hands (we found it easier this way than with a rolling pin as it crumbles away with a rolling pin) and using your cutter, cut your gingerbread men shapes transferring to a lined baking tray.
6.) Bake in oven for 10-15 until golden around the edges.
7.) Leave to cool completely before adding icing
Icing:
8.) Whisk egg and vinegar together until fluffy then fold in Sukrin icing until desired consistency. (Not watery but not too stiff)
9.) Add to piping bag and decorate as desired.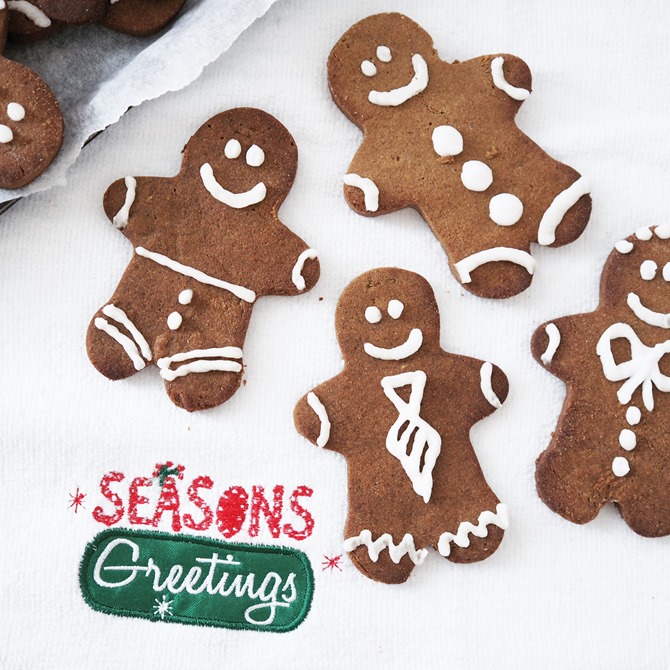 GET CREATIVE!
Try the recipe yourself! Post a picture of your creation to Facebook, Twitter or Instagram @bulkpowders_ie #bulkbakes