The Muscle Bakery have thrown lots of magical ingredients into a pot and the result? Insane gluten free homemade Jaffa Cakes recipe oozing with chocolate orange goodness.
If you can make these you'll earn hero status.
The challenge has been set – see what you can do.
METHOD:
1. Preheat oven to 180 Degrees C.
2. Mix dry ingredients into a bowl then fold in the wet ingredients.
3. In a muffin silicone mould, drop large spoonful's of batter into it. Remember you want a flat round shape, if you add too much mix you will get a larger muffin. This batter yielded enough for about 12 pieces.
4. Bake in oven for 10-15 mins until edges have started gold(ing) up.
5. Remove from oven and leave to cool completely.
6. While bases are cooling, prepare your orange jelly. Make it as per instructions on packaging, except use half of the amount of hot and cold water required.
7. In same sized muffin mould, pour small amounts of jelly mix, approx 3mm deep and place in freezer for up to half hour.
8. Once the jelly is set and easy to work with (doesn't have to be completely frozen but set enough that it comes out as a disk), you can begin to set up your Jaffa's.
9. First, melt chocolate and leave jellies in freezer for as long as possible (to make the layering process a bit easier). Melt chocolate in a glass bowl over boiling water or in microwave in a micro-safe bowl.
Tip: to make chocolate easier to melt, add 1/4 tsp coconut oil and it'll make it slightly smoother and easier to work with.
10. Lay bases out on a greaseproof lined baking tray, remove jelly disks from freezer and place them onto bases then carefully coat with your melted dark chocolate.
11. Once done, refrigerate till chocolate has hardened then eat up or store in a container as cheeky snacks for the week!
The sponge base keeps really moist due to the jelly layer so they taste just as good days later!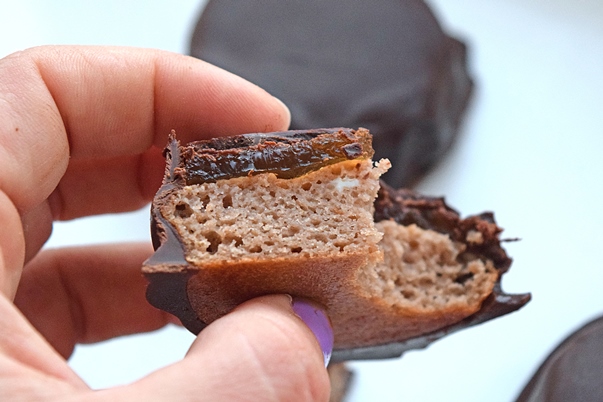 Not a fan of chocolate orange? Why not try with different jellies and variations? White Chocolate Raspberry must taste INSANE!
 GET BAKING
Try the recipe yourself! Post a picture of your creation to Facebook, Twitter or Instagram @bulkpowders_ie #bulkbakes