Eat your greens they say! It's not your typical combination – but why don't you try these delicious Spinach infused Banana pancakes by The Muscle Bakery.
Made with our very own Soya Protein Isolate 90, providing 22.6g protein per serving.
INSTRUCTIONS:
1.) Add all the ingredients into a high speed blender (we used a NutriBullet) and set aside for about 5 minutes. You need to let it set so that the chia seeds get to work and soak up some of the moisture.
Note: If you like your pancakes thick and chunky, the recipe as above will make them like that, however if you prefer thinner ones, just add more water or milk.
2.) Prepare a non-stick pan with a dab of coconut oil or coconut oil spray and turn hob heat onto medium.
3.) Start by pouring a spoonful of batter with a tablespoon and cook for several minutes. Then, flip over gently using a spatula and let cook for another several minutes.
4.) Then, drizzle your favourite sauce, fruit or even nut butter and enjoy these delicately moist pancakes!
Yields 2 servings.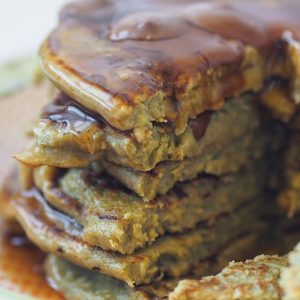 GET CREATIVE!
Try the recipe yourself! Post a picture of your creation to Facebook, Twitter or Instagram @bulkpowders_ie #bulkbakes