Get to know the new bulk™ 
2020 was an unpredictable year for everyone on the planet. For us, it also meant embarking on a huge transformation process. You may have noticed we look a little different now but, we haven't forgotten where we came from.
We've opted for a new way of presenting our brand, products and community to simply showcase how progress is a journey at anyone's reach. We want to champion and celebrate everyone's efforts and commitment to be at their best.
We're on a mission to empower every athlete and every person with the right nutrition to progress and reach their goals. Now more than ever we believe that sport, health, fitness and nutrition are for everyone – no matter who you are, what you do, or how you do it. 
Here's what you can expect from this new and improved direction.
This is nutrition 
Starring Anthony Joshua and Katarina Johnson-Thompson, our campaign shot by the creative team La Familia takes you directly to the new bulk™ world. Representing both serious athletes in training and more casual, health-conscious lifestyles, we wanted to highlight that nutrition is truly for everyone on a wellness journey.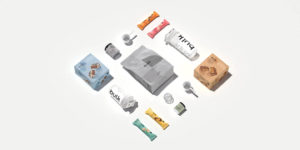 New look 
Lettering artist Paul Hutchison of Hype Type in LA worked with creative agency Robot Foods to develop our new identity and bring clarity, symmetry and balance to the new wordmark.

The design concept is inspired by circular shapes to reflect progression, journey and inclusiveness while nodding to our original brand logo with a modern feel. 
The circular pattern is a returning element across all packaging and is reminiscent of nutritional charts. Differing between ranges, each pattern and colour are key to their pack expressions and create a cohesive experience across all categories.

With help from Ellen Luff Type Foundry, Robot Foods created the 'Bulk Sans' font suite: a common thread across the entire brand world.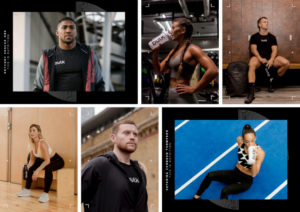 Meet our ambassadors 
#TeamBulk has been a fundamental and constant source of inspiration, empowerment and progress for us and our community. As we evolve through our journey, they'll play a crucial part in our bringing our values to life and act as a point of reference for anyone interested in pushing forward to achieve their goals.
With a huge variety of interests and experiences, we've selected our ambassadors to represent all aspects of different health and fitness journeys. From plant-based diet lovers, athletes and gym aficionados, there's a #TeamBulk ambassador you can count on.
Anthony Joshua and Katarina Johnson-Thompson are the undisputed champions of #TeamBulk, leading the pack with their inspirational life and sports journeys along with their incredible achievements. They're the highest expression of everything we believe in and stand by. 
You'll also recognise other familiar faces from #TeamBulk such as Sophie Aris and Joe Delaney as well as new ones like fitness and mental health vlogger Behzinga and former bikini bodybuilding world champion, Hayley Madigan. As our key #TeamBulk faces, you'll see them in our campaign and onsite. We'll also be introducing new international ambassadors as we continue to expand our #TeamBulk community.
Join the conversation on our social channels by tagging #thisisnutrition and #TeamBulk. We can't wait to hear your thoughts on our new look. As usual, we'll keep working hard to support our community and empower anyone to achieve their goals.