In honour of BULK POWDERS® 11th Birthday why not try making your very own high protein birthday cake?
This recipe makes a four-tiered, chocolate and banana cake, which should yield around 20 slices. The quantities can be halved to make a more sensibly-sized bake.
INSTRUCTIONS
1.) Preheat the oven to 170 degrees C.
2.) Grease four 7-inch cake tins with butter or coconut oil, line with baking paper & then grease the baking paper (you're going to need all the grease!).
3.) Break the bananas up into pieces in a large bowl and mash them until you achieve a puree-like consistency.
4.) Crack the eggs into a bowl and briefly beat them. Add these to the banana puree along with the Agave/Honey and Vanilla Extract.
5.) Melt the Coconut Oil in a microwave, allow to cool slightly then stir into the wet mixture.
6.) In a separate bowl, combine the Pure Whey Protein, GF Oats, Coconut Flour, Cocoa Powder, Baking Powder and Cacao Nibs.
7.) Pour the wet mix into the dry mix and stir until combined. You should achieve a fairly dense cake-batter-like consistency. If you think that it looks a bit dry then add a little more Coconut Oil.
8.) Separate into the four tins, bake in the centre of the oven for 10-12 minutes. This is based upon using a fan-assisted oven, cooking times for conventional ovens may differ.
9.) Remove from the oven & leave to cool in the tin for 5 mins. Take the cakes out of the tins & remove the baking paper. Leave to cool fully on a wire rack.
10.) To make the icing, combine 500g Skyr yoghurt with 2 scoops of vanilla flavoured Micellar Casein. Mix until you have a thick consistency.
11.) Stack that baby up! Decorate with Chocolate Whey Balls™, Chocolate Protein Bites™, High Protein Cookies, High Protein Snack Bars, Cacao Nibs, Dried Cranberries or just a bucket-load of sprinkles. You could also try making our Birthday Protein Truffles.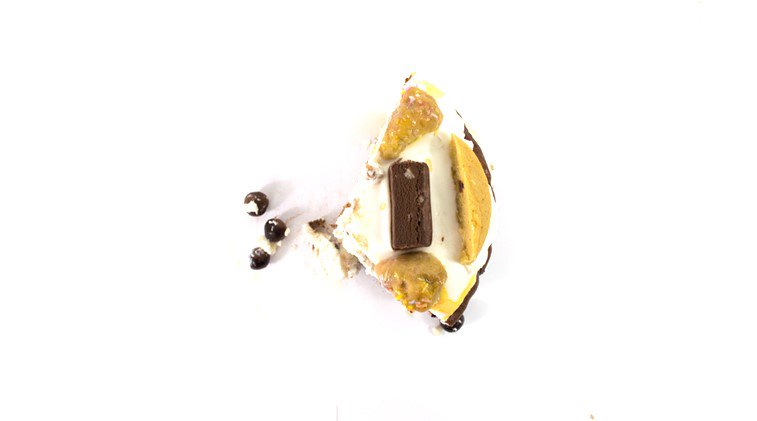 GET CREATIVE!
Made by our own product developer so you know it's good.
Try the recipe yourself! Post a picture of your creation to Facebook, Twitter or Instagram @bulkpowdersie #bulkbakes