Our amazing home baking products continue to grow thick and fast. High Protein Flapjack Mix has joined the party, meaning it has never been easier to make a batch of delicious flapjacks, perfect for every occasion!
BULK POWDER'™ High Protein Flapjack Mix includes our high-quality whey protein concentrate with each 200g mix containing over 70g protein. This high protein content can contribute to a growth of muscle mass, particularly after an intense training session.
But it's not just the impressive macros that should entice you to get creative in the kitchen. The taste of a fresh flapjack straight from the oven is undeniable. It's time to reward yourself!
BENEFITS OF BULK POWDERS™ HIGH PROTEIN FLAPJACK
High protein – over 70g per mix.
A source of fibre.
A great way of easy home baking.
Makes 8-12 tasty flapjacks.
Can be prepared and baked in 30 minutes.
Instructions:
What you will need:
4 tbsp. honey (or as you wish)
4 tbsp. Organic Virgin Coconut Oil / unsalted butter (melted)
4 tbsp. semi-skimmed milk (dairy alternative almond, soy etc.)
Method:
Pre-heat oven to 180 °C / gas mark 4 (fan assisted oven / gas oven).
Melt the butter / Coconut Oil in a microwave (checking every 20 seconds), and add to a bowl along with the 200g of Bulk™ Protein Flapjack Mix.
Add the honey and milk and mix well. Here you can also add whatever toppings to the mix, such as Raw Cacao Nibs, Dried Coconut, or finely cut Almonds.
Line a baking tray with grease proof paper and firmly spread the mixture onto the paper (1-3 cm thickness, to preference).
Place in the middle shelf of the pre-heated oven for 10-15 minutes, or until golden.
Remove from the oven, and remove from the grease proof paper.
Slice into lengths and leave to cool.
Enjoy your flapjacks as a high protein snack at any time of the day! Store in an air tight container for up to 3 days.
Share the magic!
Don't be afraid to experiment. These flapjacks would be fantastic with a scoop of peanut butter, chocolate shavings or even a dollop of greek yoghurt or ice cream.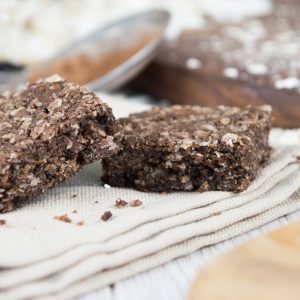 Post your pictures to social. We'd love to see what you can create. Go forth and bake strong! #bulkbakes
Related Articles
Hungry to learn more? We believe that every person, with support, has the right to transform their lives through fitness. That's why we've put together hundreds of articles with expert advice, all to help you on your fitness journey. From our high protein chocolate spread recipe to our delicious lemon protein pancakes, check out more recipes below:
     
High Protein Chocolate Spread
Peanut Butter Protein Ice Cream
Chia Seed Muffins
Lemon Protein Pancakes