Marathon season is upon us and you could probably do with a dose of extra motivation for the final push. Andy Elks and Laura Shewbridge are two seasoned endurance runners lining up for the London Marathon this year and as a happy coincidence, work for us at Bulk Powders HQ. We sat down with the running-mad pair to get the lowdown on how to tackle training for the 26.2 miles, covering everything from sprints to recovery shakes. Keep your trainers close by, you'll want to lace up after reading this.
HAVE YOU BOTH ALWAYS BEEN OBSESSED WITH RUNNING?
LS: It runs in my family. Dad used to run marathons, which really inspired me. I would watch the London Marathon on T.V growing up and I remember when I was 10, I stood up in front of the school and said my big ambition was to run the Marathon. This year will be my 7th in London and 10th overall! It all started on a treadmill at university though where I would run to a few songs, then it progressed to a whole album and eventually I joined a running group.
AE: I used to run a bit of cross-country at school, but never took it seriously. Then when I moved to London, everything changed. My first proper run was the Hackney Half Marathon, which I ran in 1 hour and 33 minutes. After that I ran two marathons without proper training; once in Barcelona (2:52) and then in Valencia in (2:42) – then I realised I wasn't bad at this running business. Now I'm completely hooked.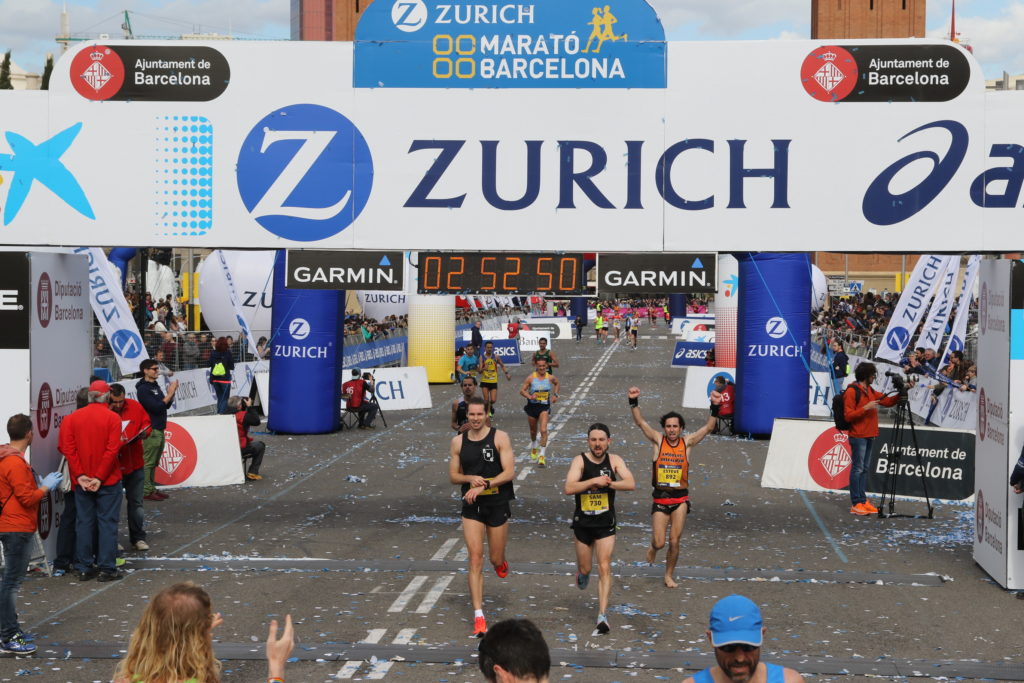 WHAT IS YOUR GOAL FOR THIS YEAR'S LONDON MARATHON?
LS: I just want to enjoy it. Last year I suffered a bad knee injury where I couldn't do any exercise for six months. After that I remember saying I never thought I'd run London again. It's also going to be extra special because my fiancé proposed to me last year on The Mall, which is the finish line of the race.
AE: I want to go under 2 hours 40 minutes. I'm in the championship pen this year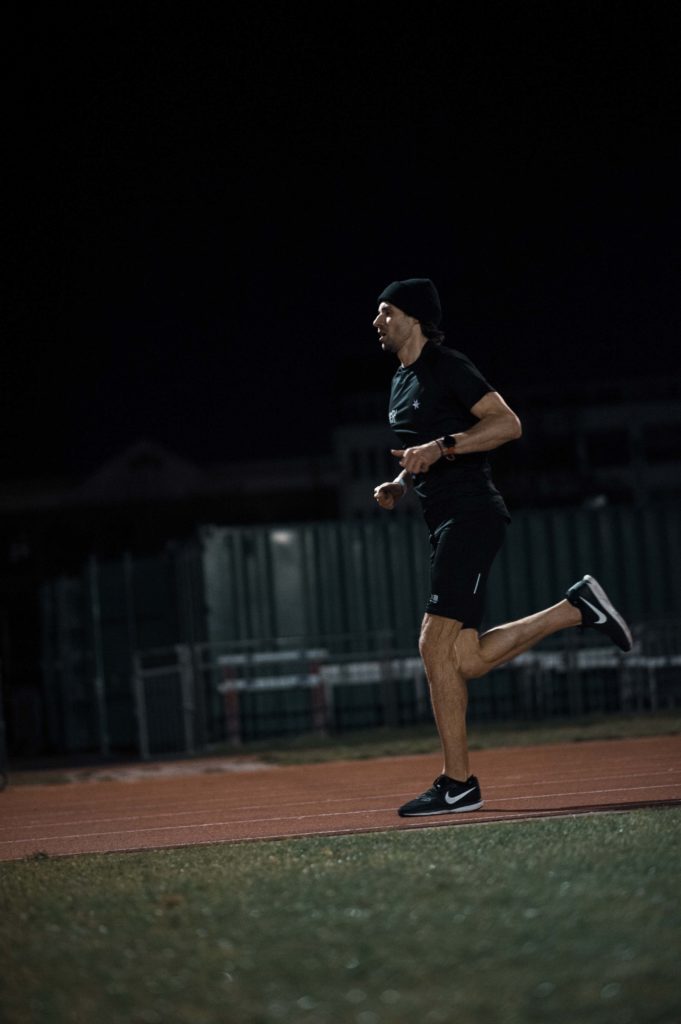 which is really exciting. This is where only 2000 of the 50,000 runners taking part start in. It's my first marathon I've properly prepared and trained for, so if I can stay injury-free, who knows how fast I can go on race day?
WHAT DOES A TYPICAL TRAINING WEEK LOOK LIKE FOR YOU?
LS: I usually run five times a week. Two are speed sessions – one on the track, one on the road. I do one recovery run which is around 10k, then a Park Run on Saturday and my main long run on Sunday. Mixing up your distances and speeds is so important as you work all energy systems this way. To run fast on race day, you need to train fast.
AE: I do three hard sessions a week with an easy day in between each one. Specificity training has really helped me in this prep. This is where on a longer run I incorporate the pace I'll be running on race day. For example, 8km of a 20km run I might run at race pace. The easy days should be just that – easy, no more than 70% of your max heart rate. This way you feel fresh for your hard run the next day.
ARE YOU TAKING ANY BULK POWDERS PRODUCTS TO HELP FUEL AND RECOVER FROM TRAINING?
LS: I take the AM and PM Multivitamin, sip on Vitargo mixed with the Instant BCAA before I run and have the Complete Recovery shake after. The Mixed Berry flavour tastes so good! It is always a big motivator for me to get through a run knowing I have that shake after. I've noticed I don't get sore after a run now, too which I put down to the Complete Recovery.
AE: My secret weapon is the Highly Branched Cyclic Dextrin. It's a really great source of carbs pre-workout. After a run I create my own monster recovery shake, which is made up of Vitargo, Vanilla Whey Protein, Oats and frozen banana – it's probably 800 calories, but it's exactly what my body craves.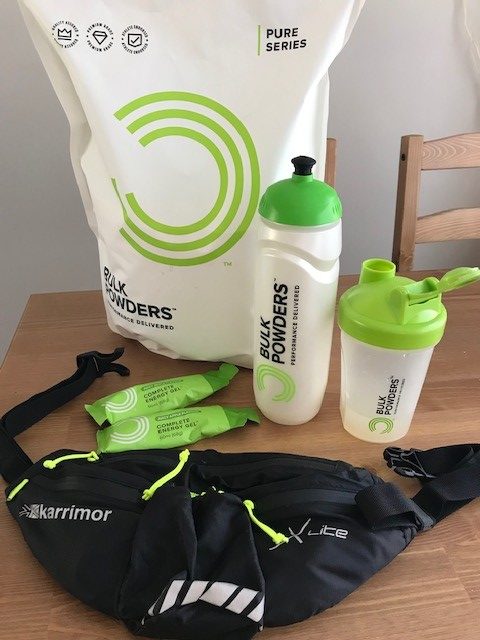 DO YOU DO MUCH STRENGTH WORK TO ASSIST YOUR RUNS?
LS: I like to go to the gym in my lunch break. I never do heavy lifts, but my favourite exercises would be Single Leg Deadlifts, Bulgarian Split Squats and Lunges. I also make sure I do plenty of core workouts as this strengthens my mid-section to stop me from hunching over when my body starts to tire during a run.
AE: I injured my ankle last year which stopped me running for two months. Since then, I've prioritised strengthening my muscles and joints, especially my calves and ankles. I perform moves that are specific to running like Single Leg Squats and Weighted Step-Ups. There's a massive misconception that you should stretch loads before a run. Sure, stretch after to elongate your muscles that get tight during your run, but not before. Instead I like to do what I call 'exaggerated running' to warm-up. It basically looks like heel flicks and high knees.
EVERYONE SUFFERS DIPS IN MOTIVATION – WHAT DO YOU DO TO BEAT THIS?
LS: It's so important to listen to your body. If you're feeling really tired, take a rest day and don't feel guilty for it. If you're running a race for charity, draw on your reasons for fundraising. Paula Radcliffe once said 'with running, like anything in life, thinking how far you've got to go to get to where you want to be can be overwhelming. It's good to learn techniques that help you focus and concentrate on doing the best you can right now – for me that's counting to 100 in my head when I run'.
AE: Running alone can be soul-destroying, so try to run with company once a week. The miles will be much more enjoyable. Try to fit your runs around your schedule, whether it's part of your commute or social time and remember, no one ever regrets a good workout.
WHAT ADVICE WOULD YOU GIVE TO SOMEONE FOR RACE DAY?
LS: Get to the race start line in plenty of time, so you're not stressed and, in a rush, – that's the last thing you need. Don't do anything on race day you haven't done in training on your long runs, too. Stick to the plan.
AE: Don't go out too fast. It's really easy to get excited, but you'll regret it later on. The race is never won in your first 5km, but it can definitely be lost by then.
Related Articles
Looking for more inspiration and advice on how to stay on track with your fitness and nutrition goals? Our extensive library of articles covers a wide range of topics, from diet and nutrition to workout tips and beyond. Don't miss out on valuable insights – explore our selection of related articles below:
Essential Gym Bag Products
Pull Day Workout
Full Body Home Workout
Best Shoulder Exercises