Whether you're a committed gym buff, keen runner or sports athlete who takes their craft seriously, gym accessories soon become an essential part of your gym ensemble. You'll wonder how you ever did without them. But if you're not sure where to start, help is at hand. Here we provide a list of our best gym and training accessories to help increase performance, be it maxing out in the gym, full stride on the road or playing on the pitch. 
1. Liquid Chalk 
When putting maximum effort into a workout, it's only natural that you sweat. It's encouraged, even. The problem is, this can make gripping implements like dumbbells and barbells more difficult. A tight grip means enhanced performance, especially when you're doing heavy lifts such as deadlifts or shrugs. It's also safer. With those last few reps that really make the difference, it's important to maintain a good, strong grip throughout your set.
In addition to weightlifting, Liquid Chalk also has its benefits across a number of sports where grip is important, such as rock climbing, racket sports and golf to name just a few.
Our chalk has been formulated to help enhance grip over an extended period of time. It's quick to dry once applied meaning you can get straight into your chosen activity without having to wait around.
Some liquid chalks are watered down to save on production costs, but our liquid chalk is manufactured to the highest quality with the main ingredient being magnesium carbonate. If you're struggling with your grip, why not give it a go?
2. Lifting straps
Grip strength refers to your ability to pull or suspend objects in your hand. There is a limit to your grip strength and this means that it can hold you back from lifting heavier weights, such as with the deadlift. There is a point when you can no longer keep your fingers wrapped around the bar – this is your grip strength limit, and it's a limiting factor for many lifters. 
That's where Lifting Straps come in. Applying lifting straps allows you to go beyond your grip strength limit, allowing you to perform more reps and more sets, with heavier weight. This will help you to push yourself further and with the right technique and nutrition, stimulate increased muscle growth. 
For a full guide on how to use lifting straps, check out our blog.
3. Knee wraps
Injuries are a fitness enthusiast's worst nightmare. Depending on the severity, they keep you out of the gym for days, weeks or even months. With this in mind, it's a good idea to take precautions, such as investing in equipment that can support your training.
Knee sleeves, for example, are designed to offer support to your knees without restricting movement. They may feel a little uncomfortable at first, but when performing heavy squats your knees will come under pressure and knee wraps offer the necessary support to help keep them stable. Not only does this make heavy squats safer, but it will also significantly help improve performance. 
4. Wrist wraps
Your wrists are involved in almost all movements in the gym. Despite this, there isn't much muscle around them and this means there is a risk of injury. Wrist Wraps support your wrist strength to ensure that your wrists remain secure whilst performing push movements, reducing the risk of suffering sprains or strains. Whether you're a powerlifter lifting high intensity, or a bodybuilder hammering volume, it's a good idea to invest in some quality wrist wraps. 
In terms of bench press, specifically, wrist wraps enable you to keep your wrists vertical and the bar's weight rests over the wrists, rather than the palm. Some would say they are an essential bit of kit for passionate benchers.
5. Half gallon water bottle
The NHS recommends we should drink 6-8 glasses of water a day, which equates to around 2 litres. However, if you're a regular trainer, you should be looking to drink more than this to keep your performance levels up and enhance your recovery. 
It's surprising how much difference it makes to have a good, reusable bottle. Finishing a Half Gallon Water Bottle (2.2 litres) ensures that you are drinking enough each day. It's simple – just fill it up in the morning and make sure it's empty by the evening. If you're someone who struggles to get water down, why not add some flavourful BCAA powder? Might as well chase some gains while you're at it. 
6. Protein shaker
Protein shakers are the norm for mixing protein powder, and remain the easiest and perhaps the most convenient way of doing so.
Ideal for on-the-go, a good quality shaker means you never have to miss a post-workout drink – whether it's in the changing room after a hard training session, sipped at your office desk, or sank in the morning with breakfast. 
7. Gym bag
After you get all these accessories, you're going to need something to carry them, right? A gym bag is one way to do this. 
As well as being large enough to carry your accessories, our gym bag is also suitable for work or day-to-day life. With a soft, protected pouch, it's an ideal carrier for a laptop. Perfect for taking to work if you go to the gym at lunch or at the end of the working day.
8. Gym clothing
After seeing a massive upturn in popularity over the pandemic, more and more people have taken a firm interest in gym clothing. Similar to getting you in the zone post-workout, wearing a well-made gym shirt helps you when inside the gym too.
9. Gym cap
In terms of performance, a gym cap is useful for people looking to avoid subtraction from sweat. Rather than contumaciously wiping your face with a towel, a cap keeps your face clear and able to concentrate on the lifts.
We could have developed our own range of hats and caps by outsourcing. But instead, just as we only use the best ingredients, we wanted the best materials when it came to our headwear collection. Whether it's a New Era® baseball cap or beanie, Bulk™ × New Era® has everything you need to elevate your fitness headwear game.
10. Foam roller
An essential for leg-day recovery, a Foam Roller is ideal for a deep-tissue massage or post-workout rehabilitation of specific muscles. Its varied pattern works to tackle the tightest of knots and shift stubborn lactic acid to ensure that you're raring to go for your next workout. Light and portable, strong and robust, a foam roller has the added benefit of being easy to clean.
Available in a sleek black design with subtle white branding, our foam roller is made from a recycled foam material and is suitable for anyone looking to reduce muscle soreness from long runs or heavy leg sessions. So, whether you're an elite athlete or a casual gym-goer, look no further than Bulk™.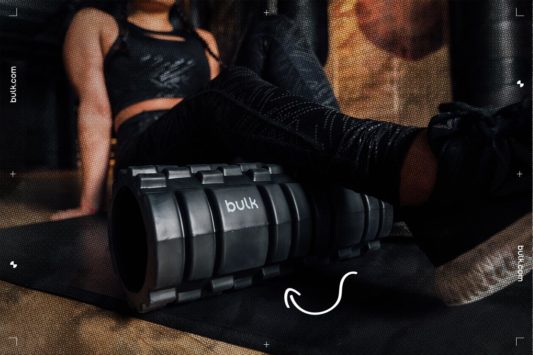 11. Thick grips
One you might not see every day, but a pair of our Thick Grips might be just what you need to take your lifts to the next level. Wrapped around dumbells and bars up to Olympic size and serve to increase their diameter, the idea behind this accessory is to make lifts harder, and more challenging and push your grip strength to the limit. Put simply, thick grips improve grip and forearm strength – very useful for both powerlifters and weightlifters. 
12. Insulated bottle
Made from 100% stainless steel and featuring double-layered insulation, an Insulated Water Bottle keeps your drink at the desired temperature for longer, whether your preference is a steaming hot pre-workout coffee or ice-cold water to sip in the gym. We all know the fountains in the gym are often sub-par, so having an ice-cold drink can make all the difference in between sets.
13. Weightlifting belt
Whether you're a weightlifter, powerlifter or just a casual gym-goer, a Weightlifting Belt provides additional support during those heavy, compound lifts such as deadlifts or squats. 
Strong and robust, our Weightlifting Belt features a stainless steel double-prong buckle for the perfect fit. In a sleek black design with subtle white branding, you can count on this one. So, whether you're an elite athlete wanting to break a PB, or a novice looking to rain more safely, a quality weightlifting belt is an essential piece of kit.
We also have the Everyday Lifting Belt. With velcro fastening, this allows for super-quick changeovers between exercises and makes it ideal for CrossFit training and novices.
14. Yoga Mat
Hitting the gym or finding your zen? A Yoga Mat will help you do just that.
With a non-slip surface designed to help maintain stability, a proper Yoga Mat is a far superior option to wooden floors or slippy carpets.
15. Skipping Rope
Skipping is an excellent source of cardio, burning around 15-20 calories per minute. That's 450-600 every half an hour. The perfect workout finisher.
Requiring minimal space and just one piece of equipment, skipping is the perfect workout finisher. It's HIIT work that's fun, too, with the enjoyment of learning a new skill garners great personal satisfaction. All you need is a Skipping Rope.
Related articles
Eager to learn more? We believe that every person, with support, has the right to transform their lives through fitness. That's why we've put together hundreds of articles with expert advice, all to help you on your fitness journey.