Healthy DIY Protein Peanut Butter Cups Recipe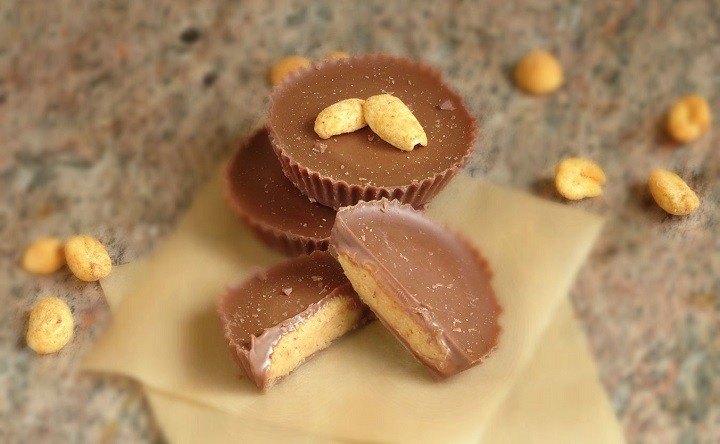 Up for some DIY this weekend? You can make this Healthy DIY Protein Peanut Butter Cups recipe your own with any flavour Protein and your choice of nut butter!
INSTRUCTIONS:
1.) Prepare your pans be either popping a silicone mini muffin tray in the freezer or lining a mini muffin tin with paper liners (spray with some non-stick spray to avoid paper-flavoured chocolate!)
2.) Place the chocolate in a heat-stable bowl and break up into small pieces.
3.) Bring a small pot of water to a boil, and place the bowl of chocolate over it.
4.) Stir the chocolate until it is completely melted, then remove from heat. Remove the mini-muffin tin from the freezer (if using this).
5.) Scoop ½ of the chocolate mixture into the prepared mini-muffin tin (or paper liners) and use the edge of the spoon to drag the chocolate up the sides forming a chocolate "cup".
6.) Pop the tray in the freezer while you prepare the filling.
7.) In a small bowl, mix together the protein powder, stevia and salt. Mix in the yoghurt before adding any milk.
8.) If the filling is too thick, add milk 1 tablespoon at a time until you reach your desired consistency. A thicker filling will fill less than 8 chocolate cups, but is more like the real-thing. Thinner fillings will fill 8 or more chocolate cups, depending on how much you use.
9.) Remove the tray from the freezer and divide the filling between the chocolate cups. Place the tray back in the freezer while you melt the remaining chocolate.
10.) Melt the remaining chocolate as before and scoop onto the top of each peanut butter filled chocolate cup.
11.) Pop in the fridge to cool completely before storing in an airtight container in the fridge for up to 5 days (can also be frozen and thawed for later consumption!)
GET BAKING!
Try the recipe yourself! Post a picture of your creation to Facebook, Twitter or Instagram @bulkpowders #bulkbakes
MACROS (per Peanut Butter Cup):
Calories: 123
Protein: 5g
Fats: 8g
Carbs: 9g
Fibre: 1g
Author: Michelle Kickham