Get ready for Easter with our cheesecake bars, coated in chocolate (an Easter essential) and topped with Mini Eggs.
INSTRUCTIONS:
1.) Melt coconut oil in a pan (or in a microwave if you prefer) and then stir in ground oats, oats and chosen sweetener/sugar.
Note: macros will vary depending on what you choose to use.
2.) Once it is all mixed together, place in fridge for 10 minutes or so for the mix to firm up a bit so it is easier to press into your mould.
3.) Grab a mould of choice, we used a bar mould, but anything will work. Whether it be a muffin mould or a giant cake tin which you can then slice up… you choose.
4.) Get your base mix, which should be firm enough to play with and press into your chosen mould.
5.) Place back in fridge and preheat oven to 170 Degrees C.
6.) Mix all your filling ingredients into a bowl and whisk together until well blended. You should achieve a thick and creamy consistency that is easy to pour.
7.) Remove base/s from fridge and pour filling mix evenly into mould.
8.) Bake for approximately 20 mins. You will know they are done when the middle starts to crack but is a little soft to touch and the sides are baked golden.
9.) Remove from oven and leave to cool. If impatient place in freezer for it/them to cool quicker.
10.) In a small glass bowl add chocolate and coconut oil and melt over a pot of boiling water or in microwave.
11.) Grab cheesecakes and pour evenly over the top/s. Decorate with Mini Eggs + chopped mini eggs then place in fridge to set one last time.
Then. Devour.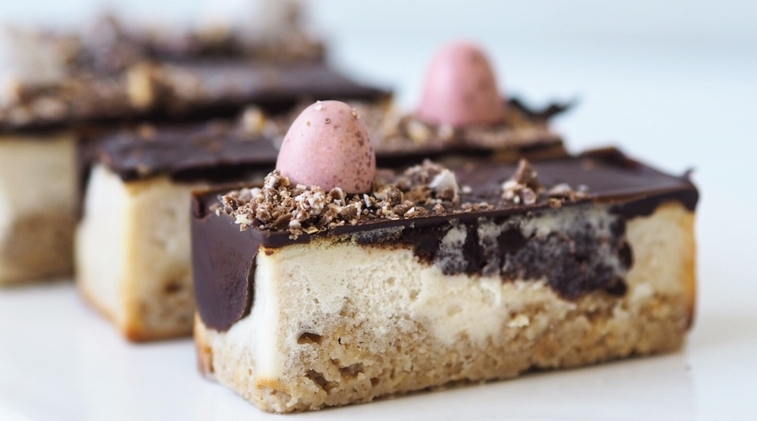 GET CREATIVE!
Try the recipe yourself! Post a picture of your creation to Facebook, Twitter or Instagram @bulkpowders #bulkbakes