Vegan Lentil Quinoa Patties Recipe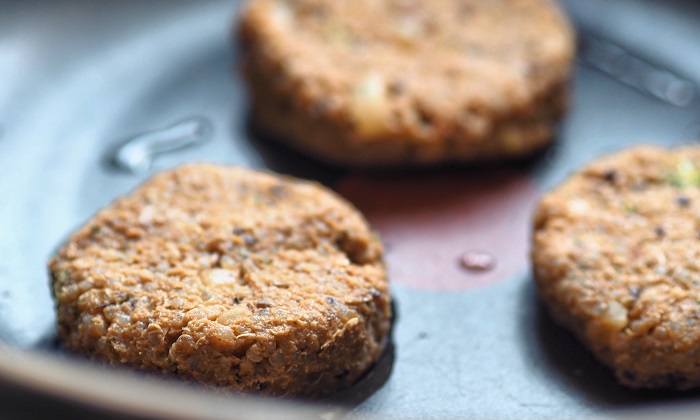 In celebration of Veganuary – a month of trying all things Vegan – here is a Lentil Quinoa Patties recipe by The Muscle Baker. Using our very own Super Pea Protein Isolate for a different take on a classic patty. Perfect to enjoy on their own or sandwiched in a wrap with loads of vegetables.
INSTRUCTIONS:
1) In a pan, heat 1 Tsp Coconut Oil on medium heat. Add chopped onions and broccoli florets, continuously tossing and turning until slightly browned and softened. Remove from heat but leave remaining oil as you will need to use this for the patties.
2) Drain and rinse lentils thoroughly, then blend in a Nutribullet (or similar) with lemon juice. Pour into a bowl.
3) Mix cooked onion and broccoli into the lentils, then fold in ready cooked quinoa (made as per instructions on packaging). Then, fold in the rest of the ingredients until you get a thick and sticky, yet mould-able batter. Note: If you leave batter in the fridge overnight, the flavours will soak in and will taste much nicer.
4) Divide batter into 6 and roll into balls, then flatten slightly into patties and put aside.
5) Heat pan on medium heat (add more oil if necessary) and proceed to make your patties, just as you would pancakes!
6) Careful when flipping over as they are extremely delicate!
GET BAKING!
Try the recipe yourself! Post a picture of your creation to Facebook, Twitter or Instagram @bulkpowders #bulkbakes
MACROS (per patty of 6):
Calories – 102
Protein – 4.8g
Carbs – 13.9g
Fats – 3.2g
Author: The Muscle Bakery
Ingredients
1 Can Biona Lentils
125g Cooked Quinoa
1 Small Onion (chopped)
4-5 Broccoli Florets (chopped)
3 Tbsp Bbq sauce or Ketchup
1 Scoop Pea Protein
1 Tsp Lemon Juice
1/2 Tsp Garlic Granules
1/2 Tsp Paprika
Sprinkle of Salt & Pepper