A Beginner's Guide to Obstacle Course Racing (OCR)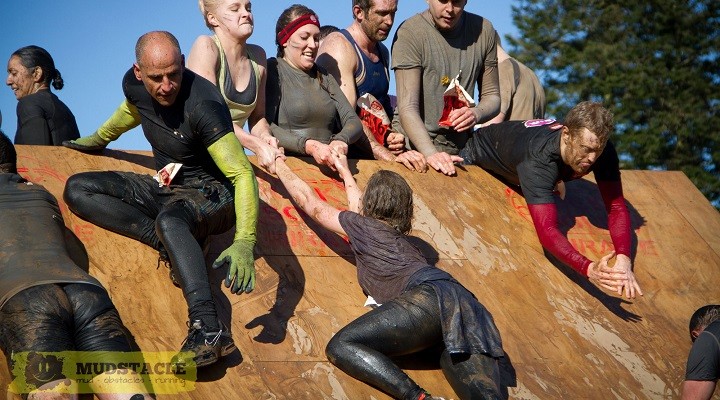 Obstacle Course Racing (OCR) is one of the fastest growing sports currently in the UK. You may have heard of the 2 bigger names in the OCR world; Reebok Spartan Race and Tough Mudder, however there are hundreds of independent races all over the country every weekend as well. You will be spoilt for choice!
There are more OCRs taking place in the UK than half and full marathons combined. Obstacle Course Racing even has its own dedicated magazine here in the UK and 2 specialist websites for the sport (links below).
What is Obstacle Course Racing?
An OCR is an off-road run with obstacles such as cargo net crawls, walls, monkey bars, balance beams and muddy ditches. Think of it as a cross between a massive adult playground and a military assault course. Some races take part in an urban environment, such as Mens Health Survival of the Fittest which is on concrete but still has as many obstacles.
The majority of OCRs involve mud, which makes for some fantastic photo opportunities and lots of fun.
Why take part in an Obstacle Course Race?
The main reason to involve yourself in this sport is to have fun. You will laugh and smile the whole way round the course.
Another great reason is to get fit. You will use every muscle in your body to pull, jump and crawl your way over and under obstacles. Your cardiovascular fitness will increase from the running and you will gain mental strength from doing things you did not think you could do. It is a full body and mind workout and you will be filled with feel-good hormones at the finish line.
What distance is an OCR?
The majority of OCRs are between 5km and 10km. This is an adequate distance for your first race, in order to experience what OCR has to offer. There are not many races shorter than 5km, however once you get involved, you may want to try some of the longer distances which can cover up to and over 40km!
Do I need to be fit to run an OCR?
ANYONE can take part in an OCR. You do not have to be fit, young, experienced, strong, agile or robust to take part.
People of all ages and abilities do OCRs and that is the best part about the sport. Fellow runners will help you over obstacles if you struggle and you will experience incredible support from all involved. You can sprint, jog or even walk the course. The main thing is that you finish. The fitter you get, the more competitive you will become with yourself and others.

Do I run alone or with friends?
An OCR can be run alone or with a team or group of friends. If you run it alone, you are guaranteed to make friends along the way, helping each other with obstacles. If you are want to run competitively, then running alone is the best option so you can push yourself. Alternately, running with friends allows you to mess around and have some serious muddy fun.
What Can I Expect From OCR?
You will experience an overwhelming sense of camaraderie within the OCR community. You will make friends with complete strangers, who will help you over obstacles and the spectators will cheer and motivate you. It will be like nothing you have ever experienced in any activity before.
In some races you will face some of your fears, but with the support from others you will overcome them and become stronger, both physically and mentally.
You will experience an extraordinary sense of achievement at the finish line and feel super human. Bumps and bruises are inevitable due to the nature of the sport, however these will make you feel strong and invincible, plus they will be a sign of your hard work. You will call them your 'OCR Kisses' which you'll take pictures of and post them on Facebook to show how tough you are.

Any Disadvantages?
The only disadvantage you may experience is an addiction to OCR and therefore your bank balance will take a beating. However, your health, fitness, friendship circle and passion for life will increase! You cannot put a price on that.
I believe Obstacle Course Racing is so popular because it allows us, as human beings, to move freely in the outdoors, as we were designed to do in our primitive days. It brings out an instinct within us that takes over once we start the race. Give one a try and you will experience what thousands of runners experience every weekend.

Author: Written by Laura Try, a bundle of energy who runs OCR's competitively for Team Muddy Kit OCR.
Check out the following links for more info about OCR and to find events: