Apple & Peanut Butter Cookies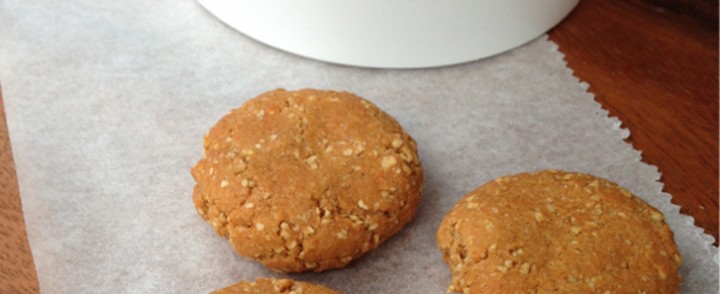 Summary
Amazing tasting apple & peanut butter cookies packed full of protein. A great snack pre or post workout and also as a nice treat after a hard day.
Instructions
1.) Preheat the oven to 160C
2.) In a mini food processor, blitz the dried apple into small pieces.
3.) Add the whey and peanut flour and blitz again until the apple is finely chopped.
4.) Add the peanut butter a blob at a time, blitzing after each addition.
5.) Repeat with the apple sauce.
6.) Divide into 6 small balls, or 4 larger ones, press into cookie shape.
7.) Bake for 12-15 minutes.
8.) Allow to cool and store in an air tight container. These are best eaten fresh!
Get Cooking!
Try the recipe yourself! Post a picture of your creation to Facebook, Twitter or Instagram @bulkpowders #bprecipes
MACROS
(for 1 out of 6)
61 Kcals
4.7g Protein
4.3g Carbs (3.6g sugars)
2.7g Fats
Author: Hebe Burton
Ingredients
30g dried apple rings
20g toffee popcorn/unflavoured whey
7g (1tbsp) peanut flour
30g BULK POWDERS™ Crunchy peanut butter (also works with smooth)
20g apple sauce
1tsp truvia