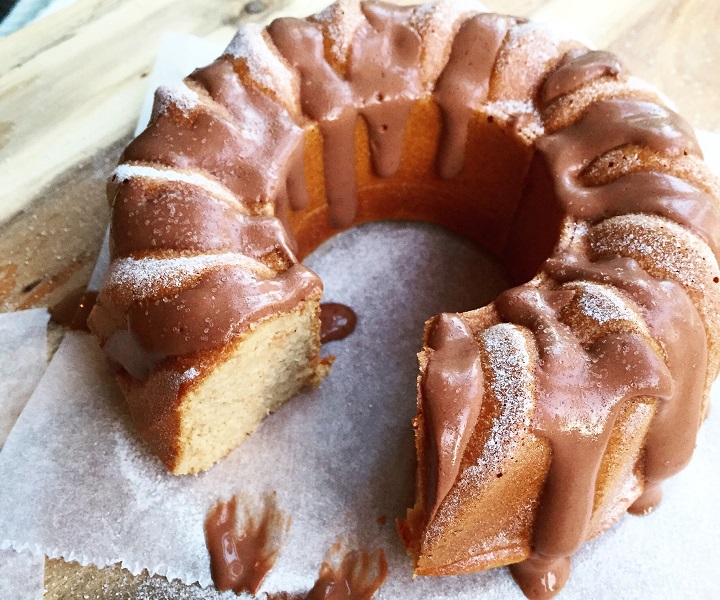 When she's not combating the evil scourge of Sepp Blatter, Hebe is working herself to the bone in the BULK POWDERS™ kitchen, producing the kind of recipes that make politicians weep – the really good kind. Step forward 'Banana Bundt Cake Recipe'. You are a beauty!
High in protein and fibre, utilising our Beef Protein Isolate and Coconut Flour, this Bundt recipe is a treat to behold.
Instructions
1.) Pre heat the oven to 175C.
2.) Blend all the ingredients together until just smooth.
3.) Oil your bundt tin. Scrape in the batter and bake for 25 minutes.
Get Baking!
Try the recipe yourself! Post a picture of your creation to Facebook, Twitter or Instagram @bulkpowders_uk #bprecipes
MACROS (1/6th)
Calories – 83 kcals
Protein – 10.6g
Carbs – 7.9g
Fats – 1.4g
Fibre – 2.7g
Author: Hebe Burton
Ingredients
30g HydroBEEF™ (Banana Fudge)
30g Coconut Flour
30g Buckwheat Flour (or oat flour)
12g Peanut Flour
130ml Egg White
75g Greek Yoghurt (or Alpro dairy free)
45ml Almond Milk
Pinch Xanthan gum
1 tsp Baking Powder
2 tsp Banana Powder (opt)
2 scoops Stevia powder (or sweetener to taste)