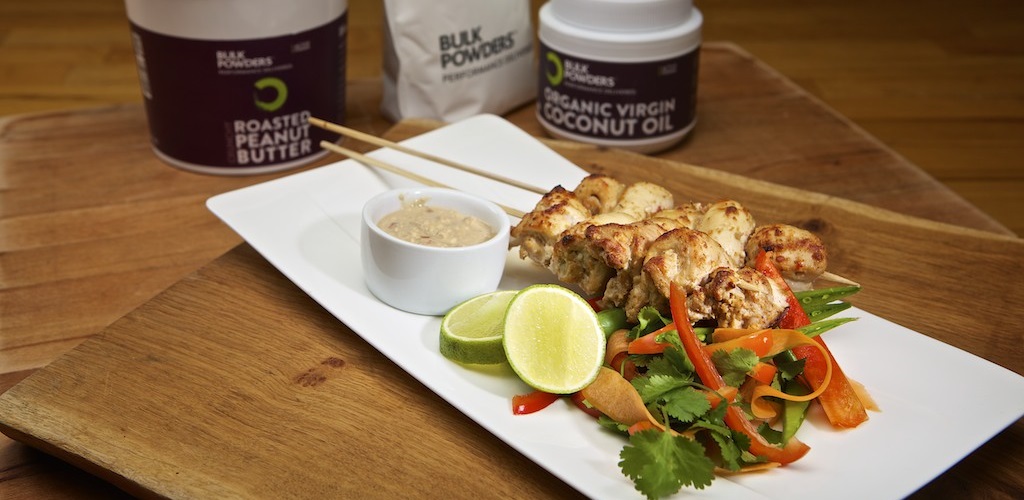 Bulk Cuisine
Chicken Satay with Peanut Sauce
Take a classic and give it a twist. That was the BULK Kitchen brief and they have duly delivered! Next time you're considering ordering in some takeaway, why not try making your very own Chicken Satay with Peanut Sauce – for a tastier, healthier alternative!
Method:
1.) First make the marinade for the chicken. Put the coconut oil in a food processor and blend until smooth with the shallot, garlic, chilli, spices, soy sauce and water.
2.) Mix with the chicken meat in a large bowl. Cover with clingfilm and leave in the fridge for 1 hour up to 24 hours.
3.) While the chicken is marinating, soak 8 wooden skewers in water. (This is to prevent them burning when you cook the chicken).
4.) To make the peanut sauce, heat the coconut oil over a low heat and add the shallots, garlic, chillies and lemongrass. Cook gently until soft but not coloured over a low heat – about 10 minutes.
5.) Stir in the peanut butter, whey protein, sweet potato powder and desiccated coconut with the water and soy sauce. Bring to the boil and simmer gently until thick over a low heat for 15 minutes.
6.) When you are ready to cook the chicken, thread the meat on to the soaked wooden skewers.
7.) Heat the grill until hot and then put the chicken skewers on the grill rack. Cook for 8-10 minutes, turning every 2 minutes until the chicken is cooked through but still juicy.
8.) Serve the skewers with a crunchy vegetable salad (we used carrots, red pepper and sugar snap peas with fresh coriander leaves), with the lime juice squeezed over them and the peanut sauce on the side.
Serves 4.
Get Cooking!
Try the recipe yourself! Post a picture of your creation to Facebook, Twitter or Instagram @bulkpowders #bulkkitchen #bpbakes
MACROS (per serving)
Calories – 288
Protein – 37.1g
Carbs – 10g
Fats – 11.8g
Fibre – 1.21g
Ingredients
600g Chicken thigh meat, skinned and boned (or breast meat if you prefer)
1 Shallot, peeled and finely chopped
1 Clove garlic, peeled and crushed
1 Fresh red chilli, deseeded, deveined and finely chopped
1tsp Ground coriander
½ tsp Ground cumin
½ tsp Medium curry powder
5ml Low salt soy sauce
30ml Water
1 lime
Peanut Sauce
2 Shallots, peeled and finely chopped
2 Cloves garlic, peeled and crushed
1-2 Fresh red chillies, deseeded, deveined and finely chopped
1 Small stick lemongrass, very finely chopped
30g Peanut butter
7g Pure Whey Protein™ (unflavoured)
5g Desiccated coconut
150ml Water
5ml Low salt soy sauce