Double Chocolate Pancake Cake Recipe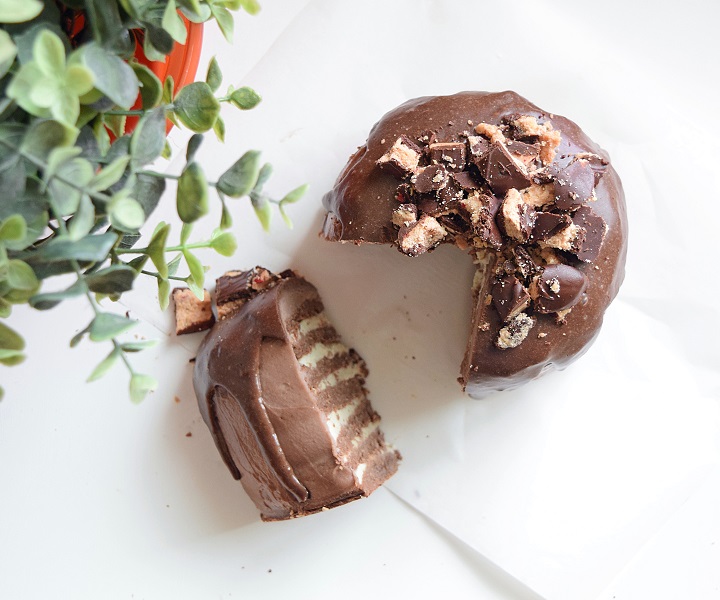 Fill your boots this Pancake Day with a Double Chocolate Pancake Cake recipe, courtesy of the phenom that is The Muscle Baker. What could be more appetising than a stack of pancakes lathered in chocolate? Not a lot, let's be honest.
Why not give this a try yourself? It might just turn out to be the best Pancake Day ever.
Method:
1.) Add all the pancake ingredients into a blender and blitz everything till well combined.
2.) Spray a non-stick pan with coconut oil spray and turn heat up to medium.
3.) Add spoon full of batter, one at a time with a tablespoon, rounding out with the tip of the spoon (if you're fussy about them being perfectly round). And leave to cook for several minutes until able to flip over. Flip, flatten and cook another several minutes. Repeat till all batter is done.
4.) For frosting, mix ingredients together in a bowl and you should get a creamy/spreadable texture, sandwich that between your pancakes and go stacking them up.
5.) Do the same with your chocolate frosting and use that to frost the outside of your now stacked up pancakes ie. Cake.
6.) Leave to cool in the fridge for an hour.
7.) Make your choc ganache as per recipe and pour over cooled cake gently (or the drips wont look as pretty as the picture). Chop up a bar or top with whatever you fancy, then leave to cool for approx. ½ hour more.
Then, voila. PANCAKE CAKE.
Get Baking!
Try the recipe yourself! Post a picture of your creation to Facebook, Twitter or Instagram @bulkpowders #bpbakes
MACROS (per piece of 4)
Calories – 372
Protein – 50.8g
Carbs – 25.7g
Fats – 8.9g
Author: The Muscle Bakery
Ingredients
1.5 Cup Almond Milk
1 Cup Ground Oats (80g approx.)
¼ Cup Unsweetened Cocoa Powder
2 Scoops Pure Whey Protein™ (Chocolate)
1 Tsp Liquiflav (Chocolate)
1 Tsp Chia Seed Powder
1 Tsp Baking Powder
Inside Frosting:
250g Non-Fat Greek Yoghurt
2 Scoop Vanilla Casein
Outer Frosting:
250g Non-Fat Greek Yoghurt
1 Scoop Micellar Casein (Chocolate)