Ginger Chocolate Protein Mugcake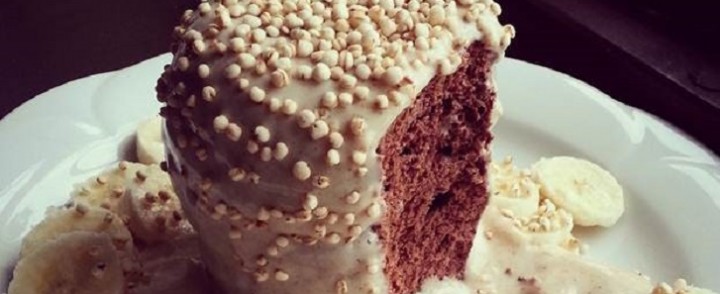 Summary
This is a quick and easy recipe for all chocolate lovers to enjoy. With subtle hints of ginger, it's a great high-protein dessert treat, oozing with chocolatey greatness. Give this Ginger Chocolate Protein Mugcake a try yourself – you won't regret it!
Instructions
1.) First mix all the wet ingredients in a large, microwave-safe mug.
2.) In a separate bowl mix together all the dry ingredients.
3.) Then gradually mix the dry ingredients with the wet ingredients in the mug.
4.) Once the mixture is lump-free, place the mug in the microwave and cook for about 2 minutes, but keep a close eye on it as it does have a tendency to rapidly expand and spill! If this starts to happen, open the door, allow to cool for a few seconds, then continue cooking.
Topping instructions: Mix all ingredients together (except the quinoa pops) and pour over the mugcake. Then sprinkle the quinoa pops on top.
Get Baking!
Try the recipe yourself! Post a picture of your creation to Facebook, Twitter or Instagram @bulkpowders #bprecipes
MACROS (whole cake)
302 Kcals
52.4g Protein
8.9g Carbs
Fat 4.7g
(Topping)
211 Kcals
20g Protein
27.6g Carbs
0.9g Fat
Author: Chef Baard
Ingredients
1 1/2 scoops BULK POWDERS™ Pure Whey Isolate 90 (Vanilla)
40 g BULK POWDERS™ Liquid Egg Whites
1/2 tsp Baking Powder
1 1/2 tbsp Cocoa Powder
1/2 tsp Coconut Oil (heated to a liquid)
100 g Fat-Free Natural Yogurt
1 tsp Ground Ginger
Topping ingredients:
1/3 scoop BULK POWDERS™ Pure Whey Isolate 90 (Vanilla)
200 g Fat-Free Natural Yogurt
1 tsp Maple Syrup
1 tsp Mixed Spice
15 g Organic Quinoa Pops