Some say she's close to getting a call up for the Gibraltar National Football team after their 8-1 mauling at the hands of Poland. Others say she should be the team physio because her magic sponge is actually a Victoria Sponge Cake that, once eaten, can transform someone with limited Sunday league skills into the next Lionel Messi.
In between making Chocolate Whey Balls™ Cake, Vegan Protein Bars and Chia Seed Jam, Elke has also turned her hand to savoury meals (the hungry Mr Muscle Baker does need feeding after all!)
Feast your eyes on this delicious healthy Macaroni Cheese recipe where our Liquid Egg Whites have been used as part of the ingredients list. We know what we'll be eating tonight. Get in ma belly!
Instructions:
1.) Pre-heat oven to 180 Degrees C.
2.) In a measuring jug whisk yoghurt with eggs, then add ½ of the mozzarella and ½ of the oregano and whisk again. Set aside to prepare bacon.
3.) In a non-stick pan, heat up coconut oil and fry the bacon strips until consistency you desire. Some prefer it crispier while others don't, so cook up until you are happy with it.
4.) In an oven-proof dish add your cooked pasta, bacon strips and then pour egg/yoghurt mix over it and mix it up with a fork so that everything is coated and top with the remaining mozzarella and oregano.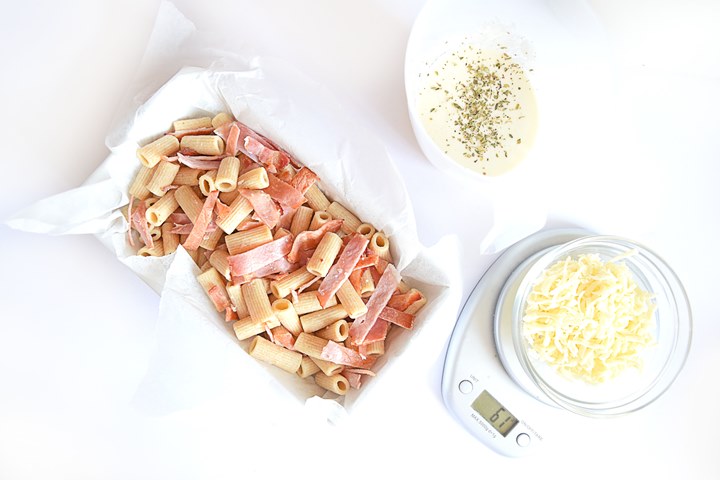 5.) Bake for 20 minutes or until golden crisp over the top.
Note: If you want to make this dish Gluten-Free, sub the pasta for one that suits you.
Get Cooking!
Try the recipe yourself! Post a picture of your creation to Facebook, Twitter or Instagram @bulkpowders_uk #bprecipes