[VIDEO] Healthy Millionaires Shortbread Recipe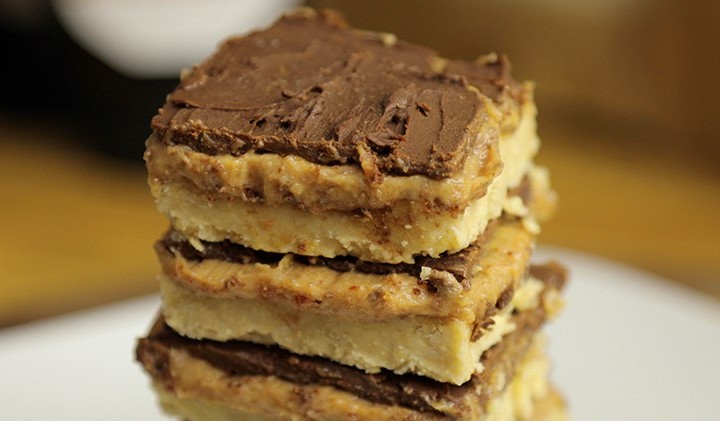 Peanut Butter Caramel Slices aka a Healthy Millionaires Shortbread – only 214 calories per slice and full of healthy fats.
INSTRUCTIONS:
1.) Start by adding the cashew nuts into a food processor and blitz for a few seconds until slightly crushed.
2.) Add in the coconut oil, honey and fine oats and blend again so that everything is well combined and forms a sticky, crumbly mixture.
3.) Pour this into a baking dish and firmly press everything down. Place into the freezer to set whilst you make the other layers.
4.) For the caramel, add the dates, peanut butter and a dash of almond milk into a food processor and blend until really smooth. Gradually add in more almond milk as needed.
5.) Spread the caramel over the top of the base and return to the freezer.
6.) Melt the coconut oil and mix this together with the honey and cacao powder. Finally, pour this over the top of the caramel and leave in the freezer for at least an hour to set.
7.) Cut into slices and enjoy!
GET BAKING!
Try the recipe yourself! Post a picture of your creation to Facebook, Twitter or Instagram @bulkpowders #bulkbakes
MACROS (per shortbread)
Calories: 214
Protein: 3.5g
Fats: 12.2g
Carbs: 25.2g
Author: Charley's Health