From ravioli to rigatoni, World Pasta Day celebrates the delicious, versatile dish that is an undeniable favourite across the globe. Every year, Italy exports over 1.7 million tonnes of pasta. If it's pasta without the carbs you're craving, our Diet Pasta is perfect for you. Alternatively, if it's a vegan option you're looking for, try our Vegan Alfredo with Nutritional Yeast Flakes recipe. We'll be celebrating with this delicious recipe from Bulk™ ambassador, Nadia, who certainly knows her way around the kitchen. Give it a try and get adventurous this World Pasta Day.
Spicy Peanut Butter Prawn Pasta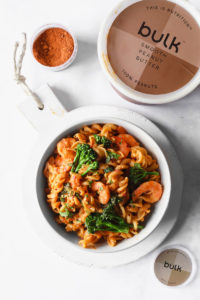 Ingredients (serves 2):
1 tbsp oil
1/4 onion, chopped
2 garlic cloves, crushed
1 inch piece of ginger, chopped
250g prawns
120g Tenderstem broccoli
2 tbsp Bulk™ Peanut Butter
1 tbsp lemon juice
1 veg stock pot
1/2 tbsp chilli sauce
100ml water
Fresh coriander to serve
170g pasta, cooked according to pack instructions
Method:
Heat 1 tbsp of oil in a frying pan and sauté and onions for 5 minutes on a medium heat.
Add the garlic and ginger and cook for another 1 minute.
Add the prawns and broccoli. Continue cooking stirring occasionally for 7-10 minutes.
Stir in the peanut butter, lemon juice, stock pot, chilli sauce, seasoning and water to create a sauce. Give it a taste and season with salt & pepper if needed.
Fold in the cooked pasta until everything is evenly coated, then take off the heat and top with a generous sprinkle of fresh coriander.
Enjoy!
Let us know what you think and tag us in your recipes with Bulk™ products. For more nutrition tips, recipes and ambassador workouts, check out @bulk and get involved in the conversation by tagging #TeamBulk and be part of our community. To see more delicious recipes like this, check out the Instagram page of our Team Bulk foodie ambassador, Nadia's Healthy Kitchen.