Protein Chocolate Fudge Coconut Chia Pudding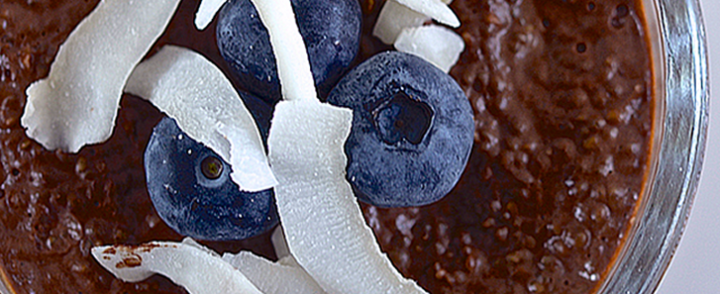 Summary
For something a little bit fancy, why not try your hand at these little marvels? These chocolate fudge coconut chia puddings are not only supremely delicious but they look fantastic too. Having a dinner party soon? Perfect – make some of these!
Instructions
1.) Put all of the ingredients into a food processor and blend until a thick mixture is formed
2.) Pour the mixture into a bowl and leave to set for at least 4 hours or preferably overnight.
Serves 1 or two small portions.
Get Cooking!
Try the recipe yourself! Post a picture of your creation to Facebook, Twitter or Instagram @bulkpowders #bprecipes
MACROS
(for 1 portion with no sweetener)
503 Kcal
46g Protein
9g Carbs
27g Fats
Author: Proteinology
Ingredients
1 scoop Pure Whey Protein™ (Chocolate)
2 tbsp Cocoa Powder (can use raw cacao powder)
1/4 cup Chia Seeds
1/4 cup Dried Coconut Flakes
1/2 cup Greek Yogurt
1/2 cup Almond Milk (can use coconut milk for more coconut flavour)
NB: Optional 1-2 tbsp truvia to sweeten if you don't like chocolate so rich in flavour