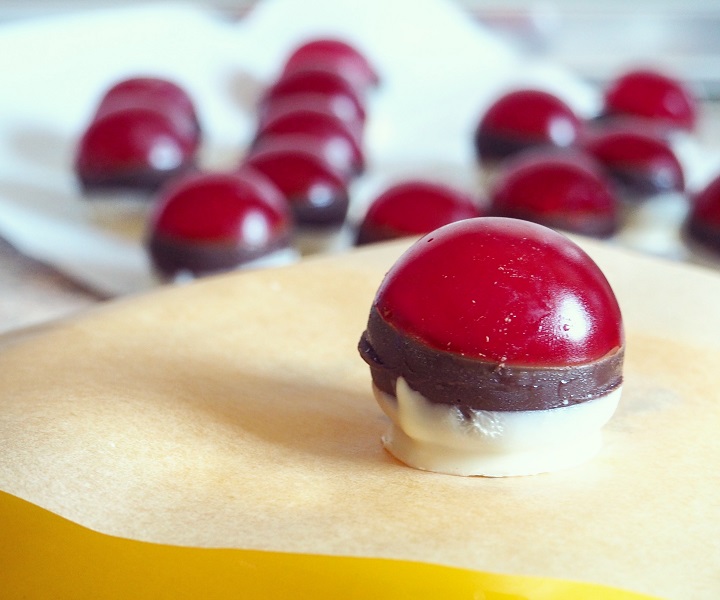 The ultimate recipe has just dropped…that's right! With this Protein Pokeballs Recipe, courtesy of the pioneer The Muscle Baker, you're now nailed on to be the coolest cat in town! Why not give this recipe a go and you'll be catching Pokemon (and people in the office) in no time!
What are you waiting for?? Gotta catch em' all!
Instructions:
1.) Preheat oven to 160 Degrees C.
2.) Mix all your base ingredients in a bowl until well combined. Then, pour mixture into cake pop mold, but only fill up half-way as they will rise.
3.) Bake for approx 5-10minutes, keep  an eye on them as different ovens cook differently. (Once they appear golden and soft/ springy to touch they are done.)
4.) Remove from oven and leave to cool.
5.) Melt dark chocolate in a glass bowl over boiling water or via microwave, and use it to fill the baked bases and level them up to the top.
6.) Place in freezer to solidify.
7.) Prepare jelly as per packet instructions except use 1/3 of stated amounts of water eg. Instead of 1 pint of water, 1/3 pint of water etc.
8.) Grab your cake pop mold from freezer and pop out the bases (which should have solidified by now.) Place them in a bowl and put in fridge and give cake pop mold a rinse.
9.) Pour jelly into molds, without filling to the top to allow space for placing the bases later on. Place in freezer until solid.
Note: will be easier if you place silicone mold onto a tray prior to pouring jelly, to make it easier to transfer to freezer without spilling.
10.) Remove from freezer and with remaining dark chocolate 'stick' the bases onto the jelly and place once again in freezer.
11.) Lastly, melt white chocolate the same way you have done the dark chocolate (bear in mind white chocolate melts quicker).
12.) Remove jelly/cake pops from freezer and carefully remove from mold, using a knife or spoon if need be and then coat the bottom (cake) side and place on a lined tray. Repeat for all and leave to set in fridge for an hour.
Seems difficult but it really isn't, just need a lot of patience… Go chase pokemons while you wait!
Recipe yields approx 20
Get Baking!
Try the recipe yourself! Post a picture of your creation to Facebook, Twitter or Instagram @bulkpowders #bulkbakes
MACROS (per ball)
Calories – 42
Protein – 1.7g
Carbs – 4.2g
Fats – 2.0g
NB: Use gluten-free oats to make this recipe free from gluten.
Author: The Muscle Bakery
Ingredients
Base:
2 Tbsp Ground Oats
50g Apple Sauce
1 Tbsp Almond Milk (or preferred alternative)
¼ Tsp Vanilla Liquiflav
25g Vanilla Pure Whey Protein™
1 Tbsp Granulated Sweetener of Choice
1 Tsp Coconut Oil
½ Tsp Baking Soda
½ Tsp Vinegar
Topping:
1 Pack Strawberry Sugar-Free Jelly
Extras:
60g Dark Chocolate
50g White Chocolate
NB: You will need a cake pop mold.