Quinoa Berry Banana Muffins Recipe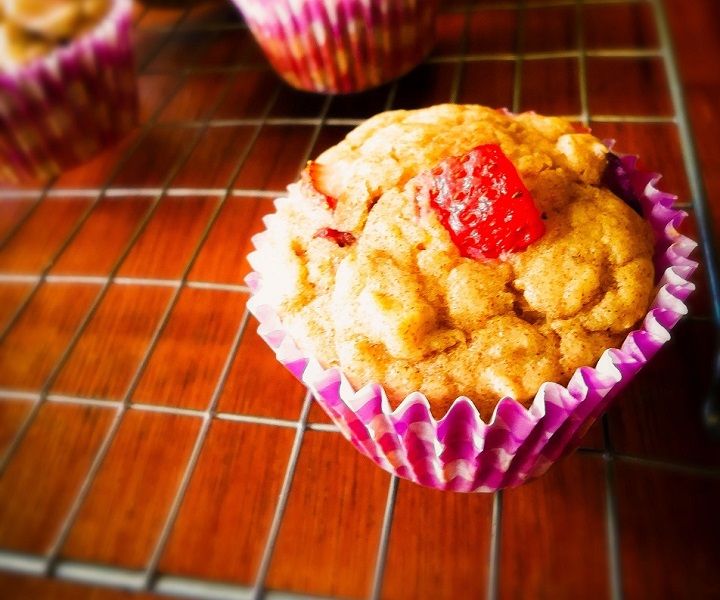 Here's a fab Quinoa Berry Banana Muffins recipe that is gluten AND sugar free! A perfect treat if you have a sweet tooth but want to avoid added sugars and other hidden nasties. Experiment with different flavour varients of Pure Whey Protein™ for an extra twist.
Berry Banana & Apple Crumble anyone?!
Instructions
1.) Preheat the oven to 350F/180C and line a muffin tin with liners (or just grease a muffin tin). If using paper liners, spray with non-stick spray.
2.) Place the milk and oats in a small bowl, and leave to soak for about 15 minutes.
3.) In a medium sized bowl, whisk together the quinoa flour, oat flour, protein, cinnamon, baking powder and baking soda. If using Stevia Powder – whisk well into the dry ingredients (it clumps with wet ingredients)
4.) In a large bowl, whisk together all remaining wet ingredients. Add the oats and milk and whisk to combine.
5.) Slowly add the dry ingredients to the wet ingredients, until all is incorporated. Batter will be like a thick cupcake batter, or thin muffin batter.
6.) Fold in the strawberries and blueberries, and divide among the muffin cases.
7.) Bake for approximately 22-25 minutes, or until well risen and a toothpick comes out clean.
8.) Leave to cool on a wire rack, then store in an airtight container in the fridge for about 3 days. These freeze well, too. Just defrost in the microwave (on low) for about 20 seconds, or overnight in the fridge. A great grab and go snack!
Get Baking!
Try the recipe yourself! Post a picture of your creation to Facebook, Twitter or Instagram @bulkpowders #bulkbakes
MACROS (1/9th of recipe)
Calories – 99
Protein – 7g
Carbs – 16g
Fat – 1g
Author: Michelle Kickham
Ingredients
40g Quinoa Flour
25g Ultra Fine Scottish Oats (or GF Oat Flour)
25g Rolled Oats (sub for quinoa flakes or more oat flour if desired)
20g Whey Protein (any flavour!)
80g Fat Free Greek Yogurt
125g Ripe banana, mashed (the blacker, the better!)
30ml Milk of choice (cow, almond, soy)
100g Liquid Egg Whites
1 tsp Pure vanilla extract
1 tsp Cinnamon
1 tsp Stevia Extract Powder
¼ tsp Salt
¾ tsp Baking Powder
¼ tsp Baking Soda
100g Strawberries
50g Blueberries (or any berry)
Optional: chia seeds, chopped walnuts for sprinkling on top