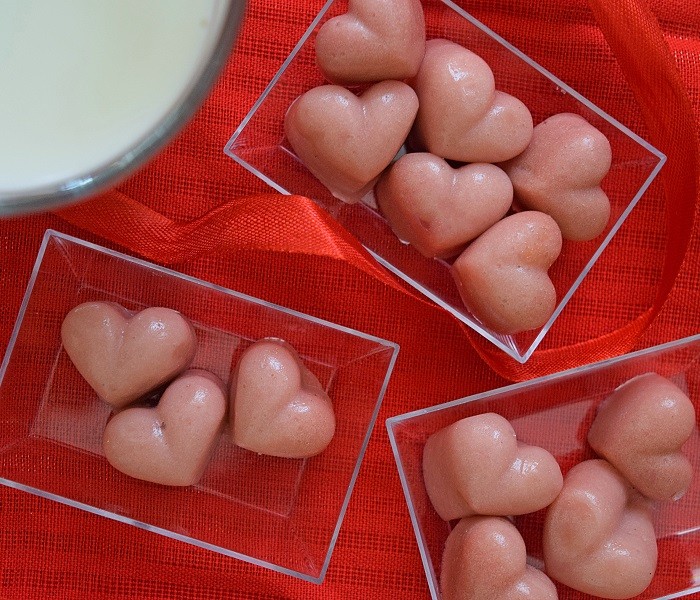 Some boys believe that if you kiss her, you turn into a Prince. Others believe her out-of-this-world-tasty high protein recipes are the key to lifelong happiness and well filled tummies.
All we know is she's called The Muscle Baker, and this Valentine's she'll be romancing your tastebuds with this Raspberry Hearts Recipe.
Instructions:
1.) In a saucepan, begin by heating up the milk on low heat, until it starts to smoke slightly. Then add gelatin sachets (one at a time) and whisk until completely dissolved.
2.) Then, whisk in the VitaFiber™ Powder scoop by scoop until dissolved.
3.) Mix in LiquiFlav™ followed by Whey Protein and continue whisking until everything is combined.
4.) Pour into a measuring jug, and pour into your desired silicone mold of choice (in this case hearts).
Note: we used a measuring jug to make it easier for us to pour directly into mold, however if you have ninja pouring skills, you can do so straight from saucepan.
5.) Leave to set in fridge for upto 3 hours, or place in freezer for upto an hour.
Get Creative!
Try the recipe yourself! Post a picture of your creation to Facebook, Twitter or Instagram @bulkpowders #bulkbakes
MACROS (per piece)
Calories – 18 calories
Protein – 2.8g
Carbs – 0.4g
Fats – 0.3g
Author: Muscle Bakery