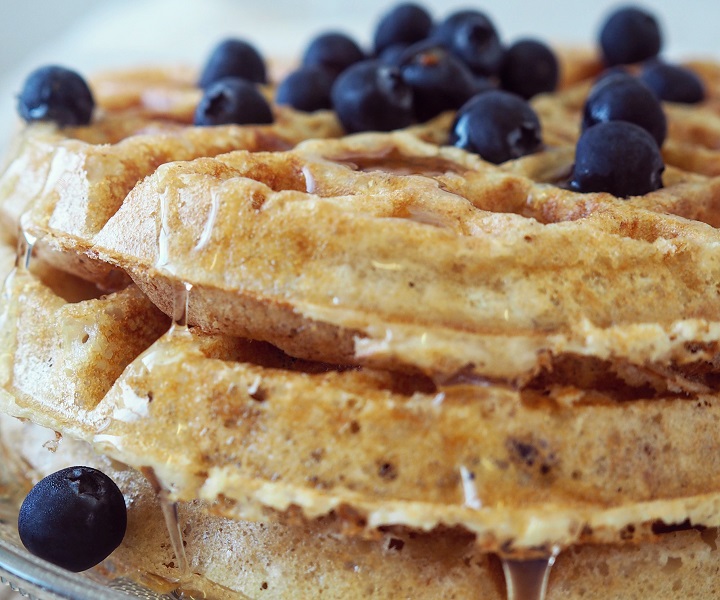 The Muscle Baker is at it again, this time with a Vegan Waffle Recipe. If you haven't tried our Vegan Protein Blend™ now is the perfect time to give it a go. Alternatively, if you're not feeling the Vegan vibe, Micellar Casein can be used as a protein substitute. Happy days!
Instructions:
1.) Mix milk and vinegar together and set aside.
2.) In a bowl mix together all your dry ingredients until combined. Then, fold in your wet ingredients until you get a thick batter.
3.) Heat up waffle machine as per instructions. If you have never made waffles before add less batter rather than more. Add batter when green light goes off, then wait until green light goes off again to open waffle machine to remove waffle.
4.) Note: If your waffle has a temperature setting, start at a lower heat then build it up.
5.) Repeat until all batter is used up.
6.) Pile them up on a plate, add your favourite Zero Calorie Syrup™ and ENJOY!
Get Baking!
Try the recipe yourself! Post a picture of your creation to Facebook, Twitter or Instagram @bulkpowders #bulkbakes
MACROS (per serving of 4)
Calories – 228
Protein – 8.8g
Carbs – 39.7g
Fats – 2.6g
Author: The Muscle Bakery
Free from Gluten, Wheat, Sugar, Dairy & Egg.
Ingredients
1.5 Cup Coconut milk/ Almond milk
0.5 Cup Gluten-Free rolled oats
0.8 Cup Brown Rice Flour
1/8 Cup Arrowroot Flour
1 Scoop Vegan Protein Blend™
1 Tsp Xanthan Gum
1 Tsp Vanilla Extract
2 Drops Stevia (or alternative)
1 Tsp Baking Soda
1 Tsp Cider Vinegar
Spray oil of choice.