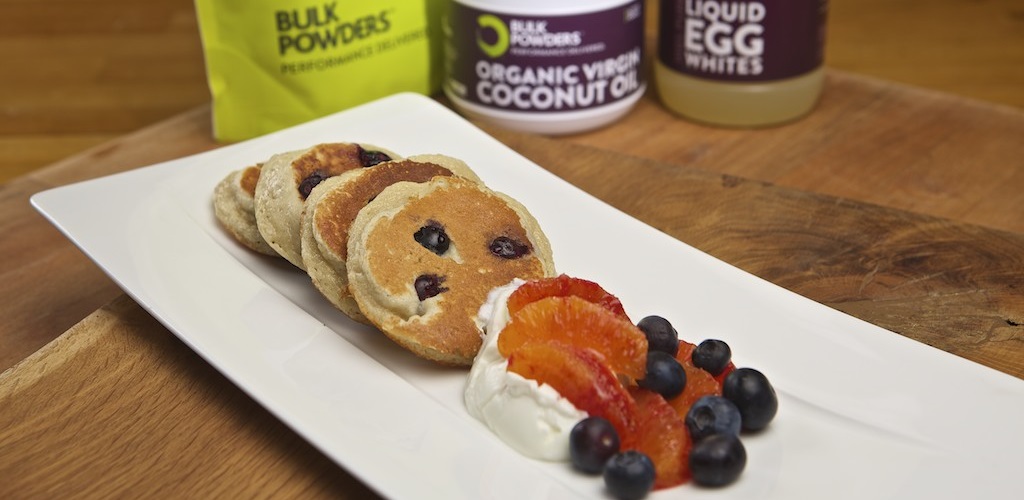 Bulk Cuisine
Almond & Blueberry Pancakes Recipe
Here's a really quick and simple breakfast recipe that just about everyone can make. With only a handful of ingredients and a whole load of 'get-up-and-go', you could be enjoying these Almond & Blueberry Pancakes in under 10 minutes – from start to finish. Packed full of protein and healthy fats, these little pancakes are just what the Protein Doctor ordered.
Method:
1.) Mix together all the dry ingredients in a large bowl and stir in the egg whites and almond essence to make a batter. Stir in the blueberries.
2.) Heat a crepe pan or non-stick frying pan and put in 5g of the coconut oil to melt.
3.) Add 4 separate tablespoonfuls of the batter to the pan to make 4 pancakes, each with some blueberries in it.
4.) Cook the pancakes over a medium heat for 2-3 minutes each side until nicely browned and cooked through.
5.) Keep warm while you make another batch of 4 with another 5g of coconut oil and then once more with the last of the batter and the oil.
6.) Serve warm on their own or with extra fruit, yoghurt and some runny honey. Also great served with crispy bacon and a drizzle of maple syrup.
Get Creative!
Try the recipe yourself! Post a picture of your creation to Facebook, Twitter or Instagram @bulkpowders #bulkkitchen
MACROS (per serving)
Calories – 388
Protein – 24.7g
Carbs – 16.8g
Fats – 23.2g
Fibre – 5.3g