Cherry Bakewell Loaf Recipe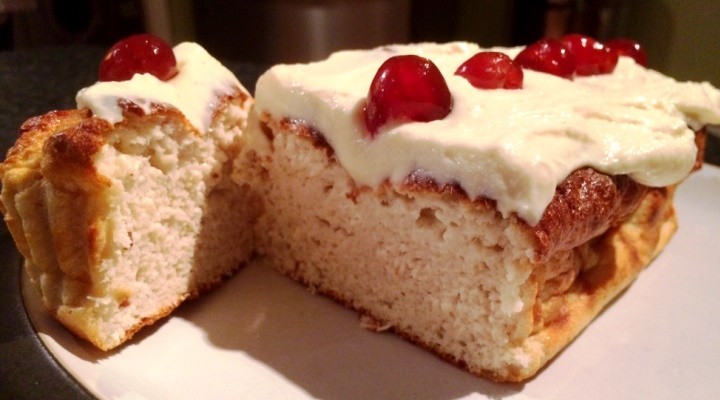 Some say he drinks Guinness as his intra workout drink on leg day and that he has his own St Patrick's Day parade with thousands lining the street as he lunges down the road. All we know is he's called The Beltsander and he makes tasty protein loaves before demolishing them in less than 10 seconds. Here's one of his favourites, give it a shot.
Method:
1. Pre heat the oven to 150°
2. Add the dry ingredients for the cake to a bowl and then add the yogurt and almond milk to make a thick paste
3. In a separate bowl, beat the egg whites until stiff and then carefully fold them into the cake mixture.
4. Pour into a lined loaf tin and bake for 15-20 minutes until golden.
5. Switch the oven off and allow it to cool in there with the door closed for at least an hour.
6. Icing – Mix the yogurt, casein and vanilla in a bowl and add to the cake once it's cooled, top with your cherries and serve.
Get Baking!
Try the recipe yourself! Post a picture of your creation to Facebook, Twitter or Instagram @bulkpowders #bulkbakes
MACROS (whole loaf)
Calories – 663
Protein – 46g
Carbs – 31g
Fat – 39g
Author: The Beltsander
Ingredients
Loaf
55g Coconut Flour
25g Pure Whey Protein (Vanilla)
1/2 teaspoon baking powder
50mls almond milk
5mls almond essence
80g 0% Greek yogurt
Icing:
10g Unflavoured Micellar Casein
60g Greek yogurt
5mls vanilla essence
6 glacé cherries (or as many as possible)