Big Physiques – Even Bigger Prizes!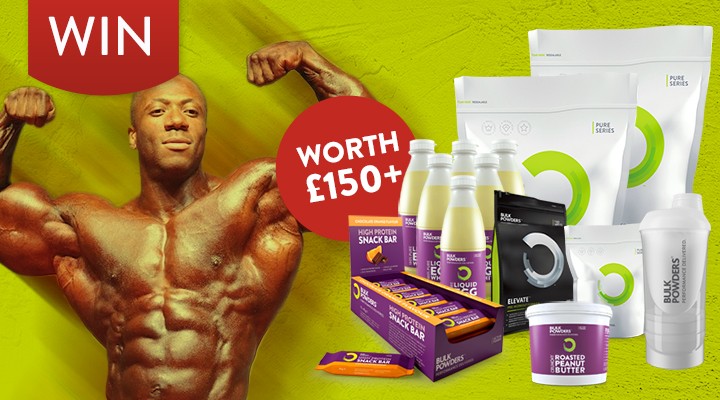 Olympia 2015 is upon us with controversy surrounding the exclusion of the people's champion Kai Greene. We're gutted for Kai who will have put in so much hard prep to get ready for the big day. But who knows what has gone on behind the scenes? Maybe we'll never really find out.
But the show must go on. Will it be Phil Heath's year yet again or will someone like Big Ramy, Shawn Rhoden or Dennis Wolf take the Sandow trophy? Will Branch Warren come roaring back? Or could it be a big outsider?
To celebrate the Olympia weekend, we're giving YOU the chance to win a big prize as we marvel at big physiques – a BULK POWDERS™ Olympia Special Bundle with prizes worth over £150!
Simply predict the Top 3 for Mr Olympia 2015 across one of our social media channels to confirm your entry. Full details about how to enter can be found below.
Not sure who's competing? Find all the names HERE to help pick your top 3.
The prize you could win (all of this!)
5kg Pure Whey Protein™
5kg Ultra Fine Scottish Oats
6 x 1kg Liquid Egg Whites
12 x High Protein Snack Bars
540g ELEVATE™ Premium Pre-Workout
1kg Creatine Monohydrate
1kg Peanut Butter
600ml Pure Series™ Storage Shaker™
How to enter
** Posts will go up on Facebook, Twitter and Instagram between 9:15am – 9:30am on Thursday September 17th **
Please enter via ONE of these three options, not across all three.
Visit our Facebook profile and find the post pinned to the top of our page about the competition. Reply with your Top 3 prediction.
Visit our Twitter profile and find the tweet pinned to the top of our page about the competition. Reply to the tweet with your Top 3 prediction.
Visit our Instagram profile and find the picture with details of the competition. Comment under the picture with your Top 3 prediction.
How we'll pick the winner
Firstly we'll look to see who has given the correct prediction for the top 3 in the correct order. From these entries, we'll pick one person at random to win the prize.
If no-one gets the right order, we'll take all entries who get the top 3 correct in ANY order and pick the winner at random.
Entries will be collated from across Facebook, Twitter and Instagram.
The winner will be announced next week across all our social media pages.
Good luck!
T&Cs
1. Entries valid until 9pm UK time on Friday 18th September. All entries after this date/time will not be valid.
2. You can only enter ONCE. Choose ONE social media channel to place your entry – Facebook, Twitter or Instagram. Multiple entries across all three will make all of your entries void.
3. BULK POWDERS™ employees cannot enter.
4. Prizes subject to stock availability. If a product listed goes out of stock we'll substitute it for a different one of similar value.
5. Entries can only be received via Facebook, Twitter and Instagram.
6. Participants must live in a country we ship to on a daily basis.