BULK POWDERS™ voted Best Sports Nutrition Brand 2013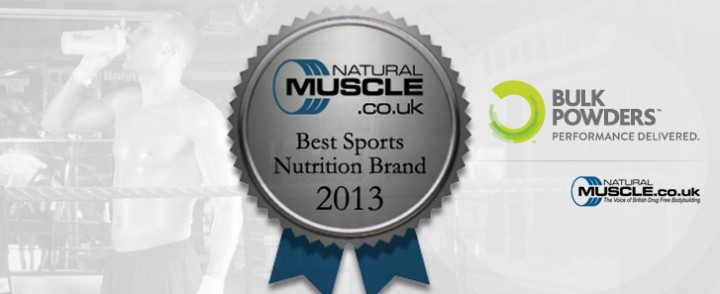 The votes cast by the public have been carefully counted. Natural Muscle is delighted to announce, the winner, of Best Sports Nutrition Brand 2013 is *envelope opens slowly*… BULK POWDERS™.
With the closing of the competitive natural bodybuilding season, the 2013 Natural Muscle Forum Awards took centre stage at NaturalMuscle.co.uk. Held every year, forum members voted in their droves to decide who the most deserving winners were across 17 categories. These included awards for male and female competitors (i.e. Best Newcomer, Most Improved Physique, Best Conditioned), forum activity (i.e. Best Journal, Best Forum Thread), and supplementation (i.e. Best Sports Nutrition Brand).
Up against 8 competitors including global powerhouses USN, Maximuscle and Reflex, plus brands such as Myprotein, we were absolutely delighted to scoop the award for Best Sports Nutrition Brand 2013. In the words of Natural Muscle;
'Not afraid to reinvent themselves with a new product line-up and a full re-brand in 2013, BULK POWDERS™ are a supplement company that have worked closely with forum members, listened to feedback, and responded, by delivering products that are relevant to the current market and deliver on both quality and price'
Upon accepting the award, BULK POWDERS™ Product Director Simon Jurkiw had this to say, "We're delighted to win the Natural Muscle award for Best Sports Nutrition Brand. It's particularly pleasing, as it's voted for by users of the forum – many of whom are very experienced in the world of resistance training and sport nutrition. It's a privilege to gain recognition from such a knowledgeable group".
We were thrilled to pick up the accolade as an acknowledgement of quality across product development and customer service throughout the year. With the recent launch of the Pro Series™ range, that includes our first set of Informed Sport banned substance tested products, we're already looking forward to the launch of more exciting and innovative sports nutrition supplements in 2014, as well as maintaining our award winning service.