Chocolate Cheesecake Brownie Recipe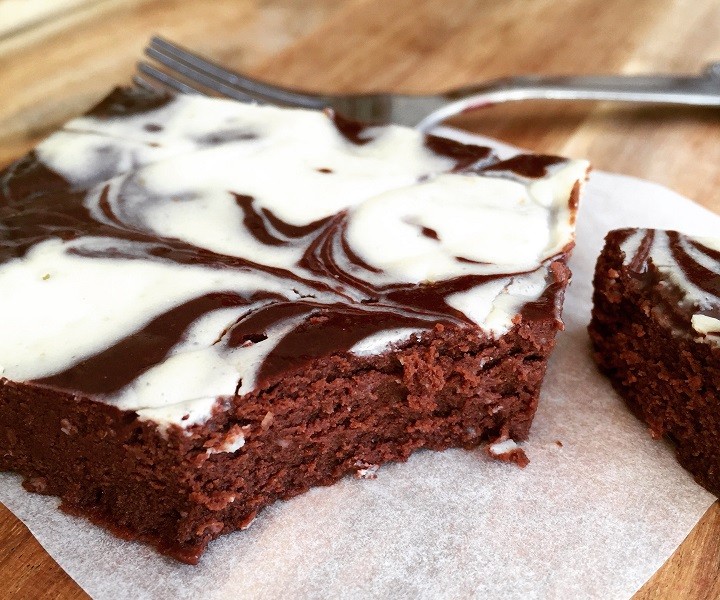 When you combine two dessert monoliths in the form of cheesecake and chocolate brownie, something magical happens; a food monster, one so enticing and hunger-crushing, is born. Our maverick baker, Hebe, has created just this: a Chocolate Cheesecake Brownie Recipe, and it is truly glorious!
Instructions:
1) Preheat the oven to 160C.
2) In a bowl, combine the dry ingredients. Add in the wet ingredients and blend together. Let the batter sit for a few minutes.
3.) Scrape into a lined 20cm square tin, pour over the cheesecake and swirl with a skewer. Bake for 25-30 minutes. Carefully remove from the tin to fully cool on a wire rack. It firms up on cooling.
Get Baking!
Try the recipe yourself! Post a picture of your creation to Facebook, Twitter or Instagram @bulkpowders_uk #bprecipes
MACROS (per recipe)
585 Kcals
80g Protein
32.1g Carbs
11.8g Fat
10.5g Fibre
Author: Hebe Burton
Ingredients
40g Micellar Casein (Chocolate)
30g Cocoa Powder
25g Oat Flour
80ml Egg White
80ml SF Chocolate Syrup OR,
80ml Almond Milk + Natvia/LiquiFlav to Taste
180g Quark
Pinch Instant Decaf Coffee
1/2 tsp Baking Powder
Cheesecake:
25g 3% Fat Cream Cheese
1 tsp Egg White
1 tsp Pure Whey Protein™ (Vanilla)
Sweetener, to taste