Easy Egg White Breakfast Cups Recipe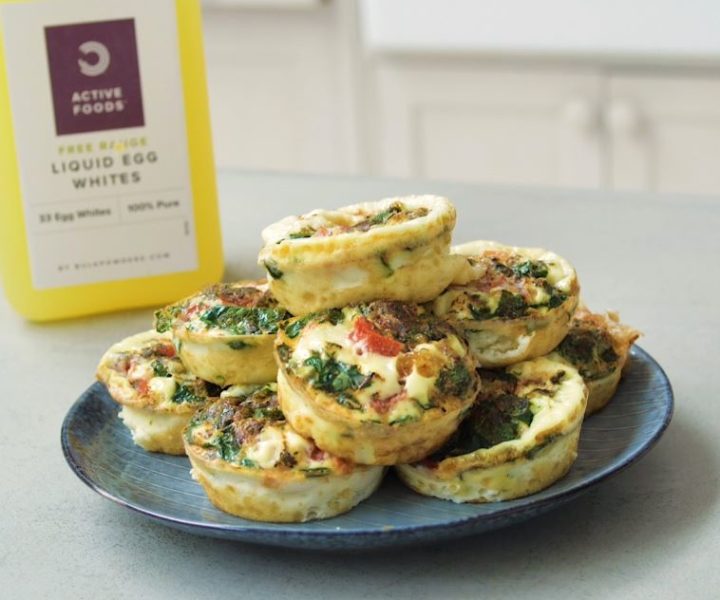 If you're looking for an easy way to start your day, our Egg White Breakfast Cups recipe is what you're after. Trust us, it'll become one of your favourites in no time. It's the perfect high-protein start to your morning for sustained energy to keep you going.
These egg white cups are so versatile that you can enjoy them during any other meal. Think of them as tiny frittatas you can always count on. Who wouldn't want a batch of great snacks to heat up whenever you're tight on time? Perfect for savoury breakfast lovers and beyond, these little egg white cups are also a perfect low-carb option if you're watching your intake at the moment. Take a look below for the full list of ingredients and prepping steps.
Ingredients
Method
Preheat the oven to 170°C (fan: 190°C) and prepare your muffin pan.

Chop up the spinach and tomato.

Sprinkle some into the muffin tin holes evenly.

Top up each hole with Liquid Egg Whites and season with Active Seasonings.

Bake for 15-20 minutes, until the egg whites are set.

Remove and let your bites cool for a couple of minutes.

Serve warm or store in an air-tight container in the fridge for a few days.

Reheat in the microwave for 30 seconds.
Get social with us and tag @bulkpowders and #TeamBulk to share your version of the Egg White Breakfast Cups and have access to many more recipes!