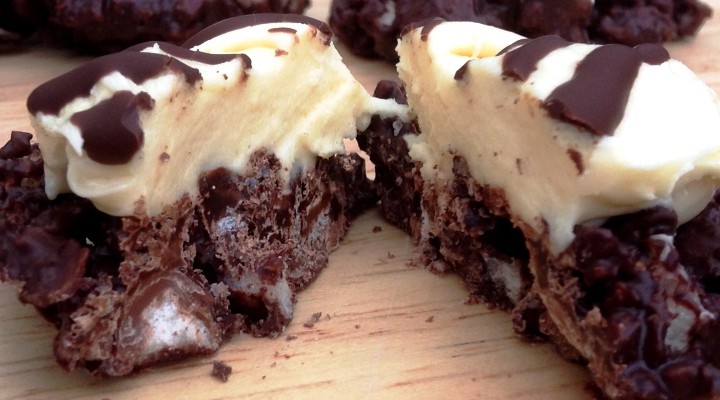 Jenny has been using our Chocolate Whey Balls™ to create this naughty Fondant Crunches recipe. We're not going to sit here and say it's healthy for you but, if you're after a post workout treat or a nice dessert for a 'cheat meal', this recipe should definitely be high up on your wish list.
By eating three, you'll get 10-11g protein and less than 365 calories.
Instructions:
Base
1.) Crush the Chocolate Whey Balls™ with a food processor or put them into a little freezer bag and bash them.
2.) Melt the chocolate in a small bowl (depending on your microwave's heat, the time it takes will vary) and, once melted, pour in the crushed whey balls and mix together.
3.) Spoon out onto some greaseproof paper (you can get 6 decent sized bases from this mixture) and put in the fridge to set.
Topping
4.) Put the marshmallows in a bowl with 1 tsp of water and melt in the microwave for 20-30 secs.
5.) Take out and stir and add your flavouring. Different flavourings have different strengths so make sure you buy good quality ones.
6.) Once the flavour is sorted, sift in the icing sugar and beat well with a spoon until it's all added in.
7.) Take the bases out of the fridge and spoon a dollop of topping on each. Return to the fridge to set a little and, after 10mins or so, if you want to add a little drizzle of choc to decorate, it'll sit on top well now.
Get Baking!
Try the recipe yourself! Post a picture of your creation to Facebook, Twitter or Instagram @bulkpowders_uk #bprecipes
MACROS (per 1 of 6)
Calories – 120
Protein – 3.5g
Carbs – 14.9g
Fats – 5.1g
Author: Jenny Amos
Ingredients
75g Milk Chocolate Whey Balls™
37g dark chocolate
4 x large marshmallows
25g icing sugar
Flavouring
1 tsp water