Millionaire's Cake Bar Recipe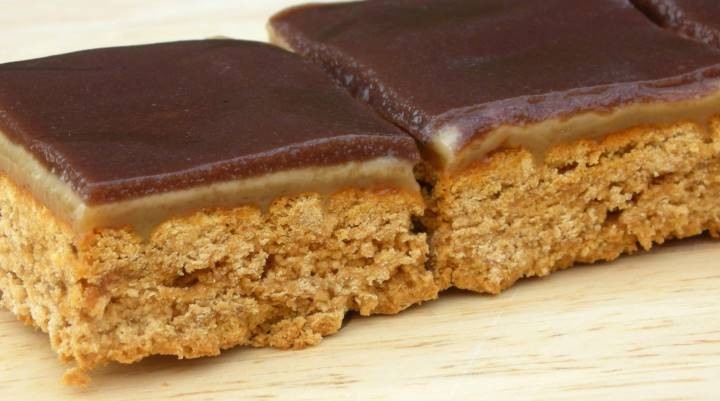 Who can resist the powerful combination of chocolate, caramel and biscuit? Throw it all together and you've got an absolutely sublime Millionaire's Cake Bar.
Jenny has provided the total macros for six Millionaire's Cake Bars. However, you can easily split to eight and still have a good sized bar. Her gym keep asking for these to be made every week so they must be good. Tuck in!
Instructions:
1.) Put the Vitafiber™ Powder into a small pan and add 30ml of water. Whisk over a medium to high heat until it melts in and forms a clear(ish) syrup
2.) Pour the syrup into a bowl with the protein powder and mix with a spoon until a dough starts to form. It'll probably be quite crumbly so you might want to add 10ml of water to bind
3.) Mould this into a rectangle on a baking sheet
4.) Once the base is formed, pop in a preheated oven, 180 degrees or 160 for a fan oven, and cook 12-15 mins. It needs to be just firm to the touch – the longer you cook it, the 'crispier' and more honeycomb-like it'll be (which might be how you like it)
5.) Once cooked, put on a wire rack to cool and, once cool, turn upside down and spread the caramel on the flat side.
6.) Shake up / whizz up the 20g of Complete Protein Dessert™ with about 50-60ml of water (depending how thick you want it) and let it start to set (a minute or so). Then spread over the caramel.
7.) Pop in the fridge and, when you're ready to munch, cut up and enjoy
Variations: You can use any protein flavour in the base depending on what you have. Also, the spread doesn't have to be salted caramel, you could try banoffee and scatter some chopped dried bananas on top to finish. Or for that extra protein hit, scatter some crushed Chocolate Whey Balls™ on top.
Get Creative!
Try the recipe yourself! Post a picture of your creation to Facebook, Twitter or Instagram @bulkpowders_uk #bprecipes
MACROS (per cake bar when dividing into six)
Calories – 106 kcals
Protein – 9.1g
Carbs – 15.9g
Fats – 2.7g
Author: Jenny Amos