Legend has it she once fought off a Sabre-Toothed Tiger using only the power of her mind. Others believe she was the first person to ever fly on the back of a Pterodactyl – perhaps the only human (ever) to co-exist with the dinosaurs.
All we know is she is called The Muscle Baker and she loves to make a paleo treat. Try this Paleo Almond Energy Balls recipe for a quick snack – perfect if you're on the move!

Instructions:
1.) Mix Almond Butter, pumpkin puree, molasses and coconut sugar together until combined.
2.) Fold in Pea Protein, you will find it will soak of moisture and your mixture will become easy to work with. (If not add a bit more pea protein.)
3.) We chose sesame seeds to coat but use whichever nuts/ seeds/ dried fruit etc. that you prefer, you could even coat them in more coconut sugar for a sweeter treat.
*Replace with a granulated sweetener of choice if you do not have coconut sugar.
Note: we used canned pumpkin puree but you can make your own by baking sliced quarters of pumpkin flesh-face down in a tray filled with water approx. 1inch high until flesh becomes soft.
Recipe yields 10 balls.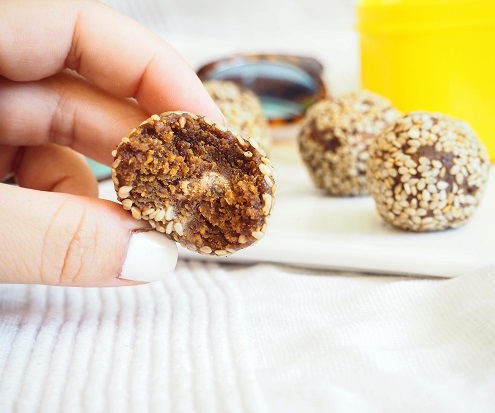 Get Creative!
Try the recipe yourself! Post a picture of your creation to Facebook, Twitter or Instagram @bulkpowders #bulkbakes