[VIDEO] Vegetarian Chocolate & Cranberry Slice Recipe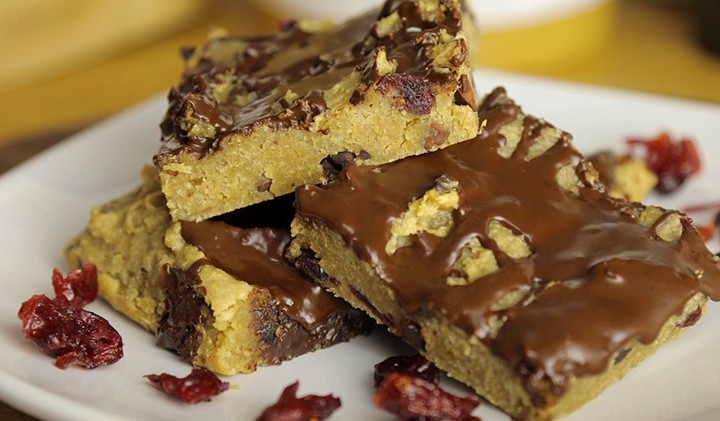 Fight cravings with these tasty low calorie Chocolate & Cranberry Slices by Healthy Twenties.
INSTRUCTIONS:
1.) Preheat the oven to 200c (fan 180c) and line a baking tray with greaseproof paper.
2.) Place the oats in a mixing bowl.
3.) Mash the banana with a fork (a few lumps are ok!) and place in a saucepan with the honey, peanut butter and coconut oil. Allow this mix to simmer until a paste is formed.
4.) Pour this liquid over the oats and mix until combined. Add the milk and then stir in the dried cranberries and cacao nibs.
5.) Transfer the mix to the pre-lined baking tray and press down with a spatula to flatten.
6.) Bake for 15-20 minutes until the top begins to brown. Once cooked leave to cool for 10 minutes.
7.) Melt the coconut oil and the dark chocolate over a low heat until combined.
8.) Pour the chocolate mix onto the cooled flapjack and leave to cool.
GET BAKING!
Try the recipe yourself! Post a picture of your creation to Facebook, Twitter or Instagram @bulkpowders #bulkbakes
MACROS (per slice with chocolate topping)
Calories: 248
Protein: 5.8g
Fats: 10.8g
Carbs: 29.5g
Author: Healthy Twenties
Ingredients
For the slice:
180g Oats (we used ground oats but feel free to use rolled oats for a more traditional flapjack)
25g Cacao Nibs
1 Banana
3 tbsp Honey
3 tbsp Smooth Peanut Butter
200ml Milk
3 tbsp Coconut Oil (plus extra for greasing)
For the chocolate topping:
1 tbsp Coconut Oil
100g Dark Chocolate