White Chocolate & Raspberry Cake Recipe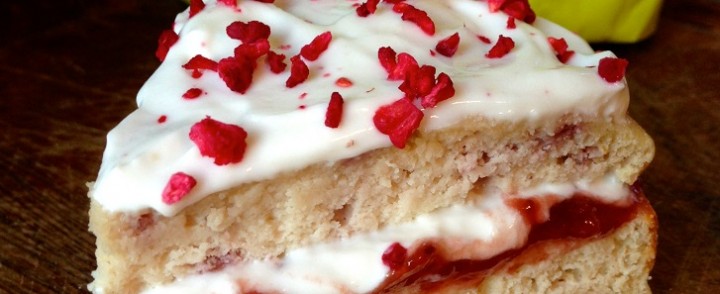 Summary
This White Chocolate & Raspberry Cake recipe is both sweet and ambitiously tasty. With 12.4g of protein per slice and less than 3g of fat, it's a fantastic treat to satisfy your evening cravings…but only when you're not eating Complete Protein Dessert™.
Instructions
1.) Preheat the oven to 175C.
2.) Blend all of the ingredients, apart from the freeze dried raspberries, together until smooth. Stir in the freeze dried raspberries, and white chocolate (if using).
3.) Line and lightly oil a 15cm non stick baking tin. Scrape the batter in and bake for 25-30 minutes.
4.) Allow to cool and slice in half horizontally. Mix the greek yoghurt with the Natvia. Sandwich the two halves together with the raspberry jam and greek yoghurt, slice into 6 and enjoy!
Get Baking!
Try the recipe yourself! Post a picture of your creation to Facebook, Twitter or Instagram @bulkpowders #bprecipes
MACROS: (1 slice of 6 w/o chocolate)
111 Kcals
12.4g Protein
9.8g Carbs
2.9g Fat
Author: Hebe Burton
Ingredients
30g Coconut Flour
30g Sukrin Reduced Fat Almond Flour
15g Oat Flour
30g Pure Whey Protein (White Chocolate)
80ml Liquid Egg Whites
1 Egg
60g Greek Yoghurt
75ml Unsweetened Almond Milk
10-15 Vanilla Stevia Drops
3/4 tsp Baking Powder
1 tbsp Freeze Dried Raspberries
Chopped White Chocolate (opt)
90g Greek Yoghurt
1/2 tsp Natvia
60g Free'ist Sugar Free Raspberry Jam