Looking to spice up your morning coffee without worrying about extra calories? Available in a range of delicious flavours, our brand new Zero Calorie Barista Syrups give you a sweetness kick with no hidden calories. It's 100% sugar and fat-free, perfect for daily use. Our Zero Calorie Barista Syrups are ideal for athletes, or those on a calorie restricted diet.
Not just for coffee. We recommend using Zero Calorie Barista Syrups to add flavour to other drinks (such as protein shakes) and your favourite desserts. Available in 4 delicious flavours: caramel, vanilla, cinnamon and amaretto, you're sure to find one that tickles your tastebuds.
How to use
Simply add 2 teaspoons (10ml) to coffee to start your day delicious and transform your morning pick me up.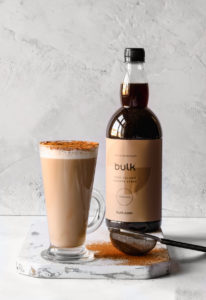 Zero fat. Zero sugar. Full of flavour. Get your barista on and give them a go. Let us know what you think and tag us in your recipes with Bulk™ products. For more nutrition tips, recipes and ambassador workouts, check out @bulk and get involved in the conversation by tagging #TeamBulk and be part of our community.