October 1st marks World Vegetarian Day. This is the perfect occasion to encourage all of us to make the move to a healthier, more socially responsible way of living and eating. Having veggie-only days in the week is a great place to start and contributes to our overall environmental impact.
We've made it easy to get started with this protein-packed recipe where you don't need a load of ingredients, equipment, or cooking skills. Just some delicious veggies and a scoop of good vibes.
Ingredients (serves 2):
For the tofu
285g firm tofu

1 tbsp cornflour

Pinch of salt

1 tbsp oil
For the sauce
Juice of 1 orange 

Zest of 1 orange

3 tbsp soy sauce

2 tbsp water

1 tbsp sesame Oil

3 garlic cloves, crushed

3 spring onions, chopped

1 carrot, grated

100g frozen peas, thawed

300g udon noodles 

Fresh coriander to serve
Method:
Slice the tofu into small cubes, then add to a large mixing bowl. Add the cornflour and salt and toss gently to coat.

Heat 1 tbsp of oil in a large frying pan and fry the tofu pieces for around 8-10 minutes until crispy and golden on all sides. Set to one side. 

In a large bowl, mix together the almond butter, orange juice, orange zest, soy sauce and water. 

Heat 1 tbsp of sesame oil in the same frying pan you used to fry the tofu, then add the garlic, spring onions, carrot and peas. Cook for a couple of, then add in the sauce. Continue cooking for another couple of minutes.

Now fold in the noodles and cook until heated through.

Take off the heat and top with the crispy tofu and a handful of chopped fresh coriander. 

Enjoy!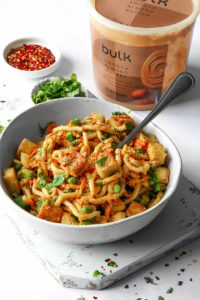 Vegan-friendly Supplements 
Whatever your dietary preference, vegan-friendly supplements are another great way to support daily nutrition in a plant-based way. Some nutrients are more difficult to obtain through a plant-based diet. The good news is that the Bulk™ VEGAN range has products tailored to fill the gaps, including an easy daily multivitamin.
As we enter autumn and have less sun exposure, supplementing with vitamin D is a good option. Our new, vegan-friendly, plant-sourced vitamin D is a simple, one-a-day tablet, provides 2500IU of vitamin D3 to support muscle function, normal bones, immune system function and cell division activity.
Let us know what you think and tag us in your recipes with Bulk™ products. For more nutrition tips, recipes and ambassador workouts, check out @bulk and get involved in the conversation by tagging #TeamBulk and be part of our community. To see more delicious recipes like this, check out the Instagram page of our team bulk™ foodie ambassador, Nadia's Healthy Kitchen.