Filling, hearty and so satisfying, protein porridge is a breakfast staple for many. It's high in fibre, richly nutritious, and has slow-release energy properties –  an ideal meal for fitness enthusiasts looking to keep calories low and energy output high.
Whether it's a warm bowl on a frosty winter morning topped with syrup and nuts, or some fresh overnight oats sprinkled with sweet berries, the variations for porridge are vast. To commemorate World Porridge Day, we've put together five delicious high-protein porridge recipes. We've kept them as simple as possible, so you can easily recreate these at home. 
1. Chocolate Shell Overnight Protein Oats
Made using our protein powder, this decadent high-protein chocolate cake recipe can be made super easy and super quick. See below how to make it and what ingredients you need.
What ingredients do you need?
How do you make it?
Mix the oats,

protein powder

and milk.

In a separate bowl, mix the yoghurt and peanut butter. Spread over the oats.

Melt the chocolate in the microwave, then pour on top. 

Refrigerate overnight and enjoy the next morning. 
2. Anthony Joshua's Overnight Oats
Discover AJ's very own overnight oats recipe, packed full of protein goodness to help you recover and prepare for heavy training.
"This is something I have in the morning after a heavy training session. But something I have to prepare the night before." Anthony Joshua
What ingredients do you need?
How do you make it?
Pour the Oat Drink into a shaker

Add 2 scoops of Informed Whey® Protein

Shake for a few seconds

Add the mix to standard porridge oats

Mix in the Organic Cacao Powder

Add some Dried Goji Berries

Squeeze some Zero Calorie Syrup on top

Give it a final stir

Leave the mixture in the fridge overnight and enjoy the next morning
3. Chocolate Porridge Sacher 
If you want to elevate your breakfast game to new levels, give this Chocolate Porridge Sacher a go. Delicious, chocolatey and vegan.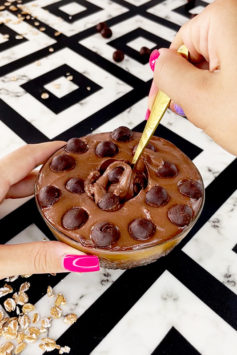 What ingredients do you need?
How do you make it?
Stir the following ingredients into a small saucepan over high heat until thickened:
40g oats

10g Organic Cacao Powder

10g Chocolate Soya Protein Isolate

5g Chia Seeds

150g Oat Drink
Then, pour into a bowl and add apricot jam and the cream made with:
100g soya yoghurt

10g Chocolate Brownie Flavoured Peanut Butter

10g Organic Cacao Powder
Finally, top with the Chocolate Whey Balls™.
4. Double Chocolate Baked Oats
Did you know porridge oats could be baked? Thought as much. Try this indulgently chocolate high-protein porridge recipe.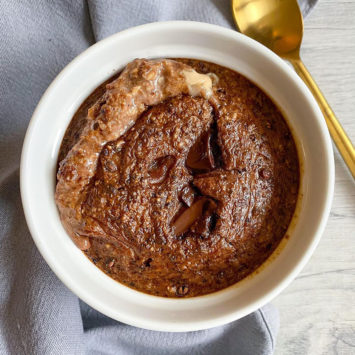 What ingredients do you need?
How do you make it?
Mix all ingredients (apart from the protein spread and chocolate) until combined

Pour ¾ of the mixture into a ramekin and add the protein spread.

Cover with the remaining mixture and top with the chocolate.

Bake for 15 minutes at 200C.
5. Super Simple Overnight Oats 
Overnight oats – this small but mighty breakfast option is the perfect grab-and-go meal for an active lifestyle. Prep it the night before, and thank yourself in the morning. All you need to do is follow the super-easy steps from our overnight oats recipe video below.
What ingredients do you need?
How do you make it?
Mix the oats, whey protein and milk

Leave in the fridge overnight

Top as desired, perhaps with some Zero Calorie Syrup.

Eat and enjoy.
We believe in sharing, and we'd love to know what you think, so don't forget to tag us in your creations using Bulk™ products. Check out @bulk for more protein recipes, ambassador workouts and tips. Join the conversation and be part of our community by tagging #TeamBulk. You'll find more inspiration from our foodie ambassador at Nadia's Healthy Kitchen. 
Related articles
Looking for more recipes? We believe that every person, with support, has the right to transform their lives through fitness. That's why we've put together these amazing recipes to help you on your fitness journey.
Protein pancake recipes                              Benefits of chia seeds
Chocolate almond protein doughnuts       Easter protein blondie recipes
Protein baked oats                                        Vegan banana bread recipe
Protein doughnuts recipe                           Blueberry baked oats
Chocolate protein banana recipe              White chocolate spread recipe