Zesty Orange & Blackberry Protein Pancakes Recipe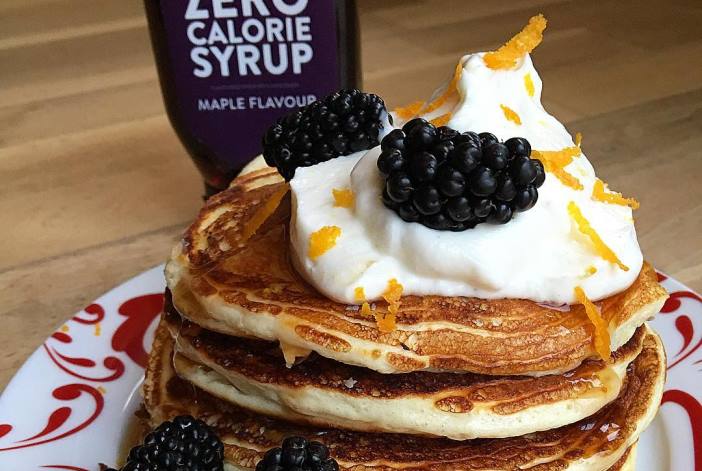 The Beltsander is back with another of his classic recipes but this time substituting Coconut Flour for Peanut Flour. The result? Amazing soft, fluffy, zesty protein pancakes (adding orange zest – genius!)
Top with blackberries and our sugar free syrup for a taste sensation.
Enjoy for breakfast, lunch or as an after dinner treat.
Method:
1. Put a large frying pan on a low to medium heat (when cooking with protein it's always best do it slow and low as it tends to burn easily
2. Mix the dry ingredients in a bowl first. Then add the egg whites and mix
3. Add the zest of the orange to the bowl along with half the blackberries
4. Slowly add the milk a little at a time until you have a thick batter (if you rather thinner pancakes, add more milk)
5. Spray the pan with cooking oil and drop spoonfuls of the batter into the hot pan
6. When you see bubbles start to form on the top, carefully flip each pancake over and allow to cook for about another minute
7. Transfer the cooked pancakes to a plate with some kitchen paper under them to allow it to soak up any moister that tends to form underneath
them (don't stack them straight away if still hot otherwise they tend to get soggy)
8. Top with the Greek yoghurt, more orange zest and any remaining blackberries
9. Serve with Maple flavour Zero Calorie Syrup
Get Flippin'
Try the recipe yourself! Post a picture of your creation to Facebook, Twitter or Instagram @bulkpowders #bulkbakes
MACROS 
Calories – 536
Protein – 50g
Carbs – 23g
Fats – 18g
Author: The Beltsander
Ingredients
60g Vanilla Pure Whey Protein
30g Peanut Flour
100g Blackberries
Zest of 1 orange
50g 0% Greek Yoghurt
2 Egg Whites (70g)
1/2 Teaspoon Baking Powder.
Enough milk to form a thick batter (i.e. Unsweetened Almond Milk for less calories)
Sweetener of choice (i.e. Stevia as it's practically zero calories)
Cooking oil spray