Get ready for BCAA like never before, we have powered up our BCAA Powder with a huge range of flavours which are expertly formulated to provide next-level support to any fitness regime. Mouth wateringly juicy Strawberry and Watermelon? Cool and refreshing Cherry Cola? How about being instantly transported to a beach paradise with Pineapple and Coconut or Passionfruit? Sound good? Carry on reading to learn more about BCAAs and what they are, our relaunch, and why ours are the best in the game.
What are BCAAs?
'Knowledge is Power' so we're here to tell you all you need to know about BCAAs. First off, BCAA… what does it mean exactly? It stands for 'Branched Chain Amino Acids'. There are 3 BCAAs which are leucine, isoleucine and valine and these account for up to 33% of muscle tissue, making them instant besties to bodybuilders, powerlifters, and athletes alike. What makes them special is that they can only be obtained from our diet, making it super important to ensure we are getting enough into our bodies to help out the muscles that we've been working so hard for in the gym! Unlike other amino acids, their chemical structure means that they can be absorbed and metabolised in the muscles directly, without the need to wait for the body to digest the whole proteins that we get through food sources. 
You've probably heard that 'amino acids are the building blocks of protein' but what exactly does that mean? Protein is made up of long chains of amino acids stuck together that fold and form what are collectively known as 'proteins' and play both structural (muscle and connective tissue, skin, hair and nails) and non-structural (immunity, cell signalling and cognitive) roles in the body. When we consume protein, our bodies break it down into amino acids which then go on to make new proteins that your body needs.
In terms of when to take BCAAs, they are great to sip on intra-workout. BCAAs tend to be a fruity, easy-to-drink beverage. Something like a dairy or vegan shake isn't great to sip on during training, so BCAAs provide a great alternative for that.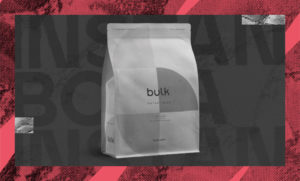 Why should you take BCAAs?
Aside from the delicious taste, BCAAs are instantised. This means that when you mix the powder with water, they mix together super easily, with no lumps and no nasty stuff floating on the top, just a smooth, crystal clear and delicious drink to supercharge your workouts and raise the bar on your training. BCAAs are most commonly used before, during and after exercise, but the flavours taste so great you'll want to be sipping on them all day long.
We have also included the three branched chain amino acids in a 2:1:1 ratio (leucine, isoleucine, valine), the golden ratio for everyday use and backed by studies as the best ratio for reaping the benefits that BCAAs can provide.
Who should take BCAAs?
It is safe to say that pretty much anyone can benefit from BCAA supplementation, from professionals training more than 5 times a week to casual trainers looking to boost their general workout performance. 
Whilst BCAAs are a great choice of supplement for those who are looking to maximise their potential and gym gains, they are also super helpful for those in a calorie deficit as well. This is because BCAAs do not count towards your caloric intake so are a great way to benefit your muscular potential without adding the extra calories that come with consuming protein via food sources. 
Summary
Whether your overall goal is gaining or cutting, BCAAs are the perfect supplement to give you that extra boost during your workouts. On top of all this? They really do taste amazing and mix like a dream. BCAAs are a foundational part of any training program and there is every reason you need to try these and get on board with our Instant BCAA Relaunch.
For more nutrition tips, recipes and ambassador workouts, check out @bulk and get involved in the conversation by tagging #TeamBulk and be part of our community.
Related articles
Looking to learn more? We believe that every person, with support, has the right to transform their lives through fitness. That's why we've put together hundreds of articles with expert advice, all to help you on your fitness journey.
Amino acids: do you need them?      BCAAs vs Amino Acids
Beginners guide to HMB                    What is L-Carnitine?
BCAA and muscle mass                      BCAA : The Building Blocks of Muscle
Pheylalanine side effects                    Amino Acids and BCAAs
Beginner's Guide to Amino Acids      Guide to flavoured leucine, creatine and glutamine