Blueberry Protein Cheesecake Recipe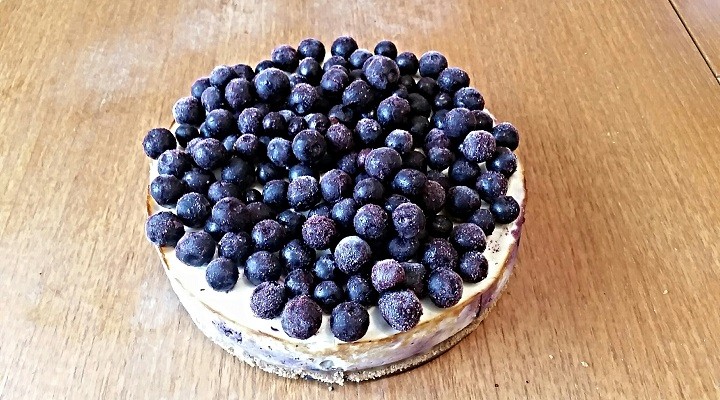 Why not reward yourself with this undeniable dessert: a classic Blueberry Protein Cheesecake – absolutely bursting with macro goodness. Containing over 167g protein, this recipe tastes even better than it looks. Now that's impressive!
Instructions
1.) Preheat oven to 180°C.
2.) Melt butter/coconut oil in microwave and add it and the digestive biscuits to a blender and blitz until very fine.
3.) Press mixture tight in to an 8 inch springform cake tin.
4.) In a separate bowl mix together the cream cheese, quark, Stevia, vanilla extract, whey protein. These need to be mixed pretty well to avoid any lumps from the whey protein. Once mixed, fold in 100g of the blueberries.
5.) Place this mixture on top of the biscuit base in the tin, level out the top and place in the oven for 30 minutes.
6.) The middle of the cheesecake should still wobble and the top shouldn't go overly brown. It will set further once cooling.
7.) Remove from the oven and let it cool to room temperature. Place in the fridge to chill for a further 4-6 hours (I leave mine overnight).
8.) Top with remaining blueberries and enjoy.
Get baking!
Try the recipe yourself! Post a picture of your creation to Facebook, Twitter or Instagram @bulkpowders #bulkbakes
MACROS (for the whole cake)
Calories – 1,846
Protein – 167 g
Carbs – 187 g
Fats – 49 g
Author: Chef Donal
Ingredients
250g Blueberries
500g Quark
300g Cream Cheese (I use Philadelphia)
1 tsp Vanilla Extract
Stevia to Taste (About 3g)
10 Reduced Fat Digestive Biscuits
50g Low Fat Butter or Coconut Oil
65g BULK POWDERS™ Pure Whey Protein™ (Vanilla)